Local News
Deidra Jackson named Citizen of the Year by Honey Grove Chamber
May 15, 2019
Honey Grove, Texas -- Deidra Jackson was honored as Honey Grove 2018 Citizen of the Year by the Honey Grove Chamber of Commerce at its Awards Banquet on Saturday, May 11.
Presenting the award was last year's Citizen of the Year, Rhonda Grubbs Cunningham.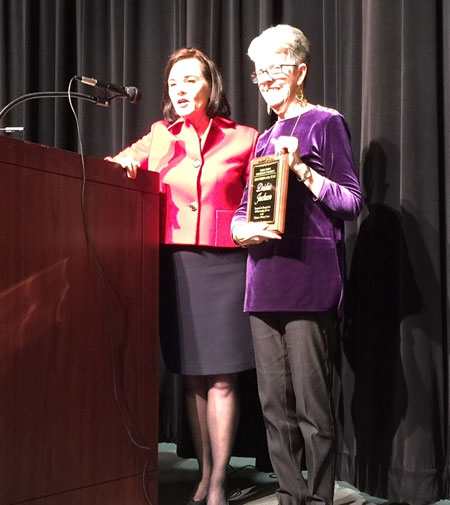 Rhonda Grubbs Cunningham (left) and Deidra Jackson
Born in Honey Grove, Deidra is a descendant of the Walcott, Gilmer, McCleary, and Dickson families, some of which were the founding families of this community. She has lived in Honey Grove for all of her life except for her time in college.
She attended Honey Grove ISD and then graduated with from East Texas State University in 1969 with a Bachelor of Arts in French, English, and Library Science. She received a Masters of Education degree from East Texas State in 1977. She is married to Honey Grove native Murray Jackson.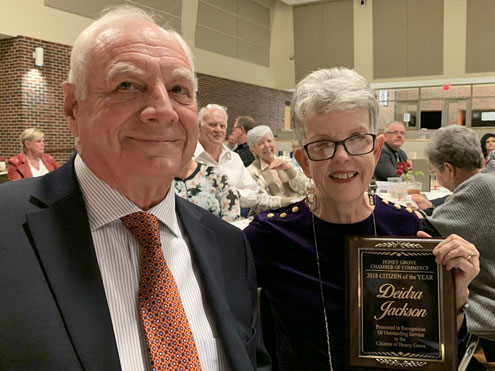 Murray and Deidra Jackson
Deidra taught high school French and English at Bonham High School for one year and English at Honey Grove High School for three years followed by teaching third grade nineteen years and a specialized reading class for seven years at Honey Grove Elementary School. She retired from teaching after thirty years in 1999 and began working at the Bertha Voyer Memorial Library in September of 1999, working there for ten years.
Deidra is very active in the Honey Grove community, currently serving as secretary of the Oakwood Cemetery Association; Communications Coordinator, McKenzie United Methodist Church; and Secretary, Friends of the Library (and long-time member).
In 2018 Deidra was elected a Director of the Hall-Voyer Foundation, which operates the Honey Grove Library. She has been a key member of the Steering Committee for the Library's current Capital Campaign. She is the volunteer coordinator of the Library's afterschool Art Program and a "Reading Buddy" at Honey Grove Elementary.
Congratulations for this well-deserved honor!