Local News
Workers begin removing mastic from Fannin County Courthouse exterior
May 15, 2019
Fannin County, Texas -- She's 131 years old and finally getting that long-overdue makeover she's been promised. But, first, she's getting a facial!
Actually, that analogy is a fairly accurate description of the work going on at the historic Fannin County Courthouse as technicians initiate an apply-and-peel process to begin removing the black mastic from the exterior of the 1888 limestone structure. The mastic is a waterproof sealant that was applied in 1965 as the limestone exterior was covered in Lueders stone.
Work got underway Tuesday morning on the columns that flank the south entrance to the courthouse. Two tests will be conducted. The first test will be to remove the mastic from one section after 24 hours. That will occur Wednesday. Mastic will be removed from a second section Thursday after a 48-hour test.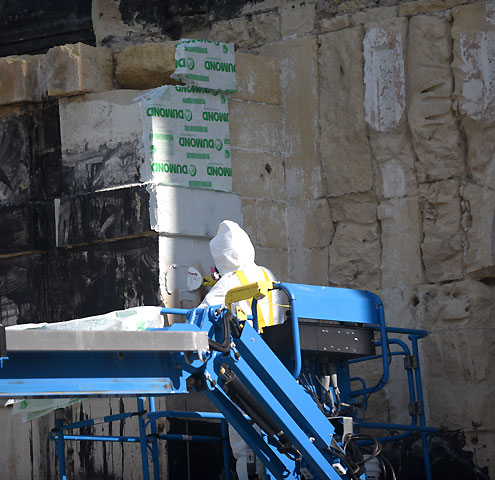 James Malanaphy, AIA, Historical Architect with Texas Historical Commission's Texas Historic Courthouse Preservation Program, will visit the site, analyze the two tests and determine the best method to remove the remainder of the mastic.
Air sampling tests are expected within a week and a good report would allow workers to discard the hazmat suits, which would speed up the removal of the mastic.