Sports
Ector state tennis - school shows net gains in sport
May 15, 2019
Ector, Texas -- There is only one tennis court in Ector, Texas, a tiny town halfway between Bonham and Sherman along the Oklahoma border, yet Ector High School is sending seven qualifiers to the Class A state tennis tournament Thursday and Friday at Texas A&M University---the most from Region III and the second most in the state.
Not bad for a town known more for its cowboy boots and hats, country living and farming than its lone tennis court.
"Yeah, and it wasn't even built for that; there are two sets of basketball goals- one on each side of the net," explained EHS tennis coach Terry Johnson. "Most of the time we don't use that area for tennis."
Johnson, who has been tennis coach for 25 years, noted that even with the lack of facilities, Ector has had success in tennis competition over the years. Last month, that success culminated in EHS qualifying 14 of its district's 16 participants to the regional tournament. The top two from the regional event advance to the state tourney under UIL rules. That's saying something in a town where most of the talk revolves around rodeo dates and when do the basketball playoffs start.
"That's easily the most I've ever had in my tenure," said Johnson, an Ector native. "Ector has had many players make regionals, but that is a big number going to state."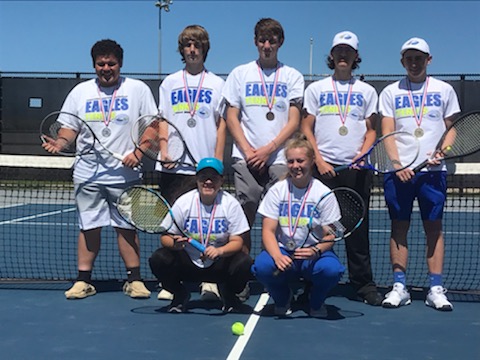 Out of those 14 tennis players, five advanced to the state's top level including Kenny Nelms, J.B. Johnson, Nathan Essary, Destiny Whitburn and Joey Grijalva. Nelms will compete in boy's singles while Johnson and Essary are in boy's doubles and Whitburn and Grijalva are the mixed doubles pair. Maricela Salazar is going as a girls singles alternate and Lalito Grigalea is a boys singles alternate.
"It feels good to put Ector out there; we now can show that there are (Class) 1A kids competing (in tennis) at a high level locally," said Essary, a junior. "It's an amazing feeling to be going to state; our practice has paid off."
Johnson, the player, also a junior, and Essary are Ector's returnees to the state tournament; they lost in the opening round of the single elimination tournament of eight entries in 2018. The other three qualifiers are making their first trip to College Station and the tourney. In a town of about 700 people in Fannin County, it's big news.
"It feels good to know that I can compete at a high level and advance to state," said Nelms, a junior and Region III runner-up. "I love the support I have here; I want to make Ector proud."
"I am excited about playing," said Johnson on qualifying for state. "We won four matches (at regionals) to get here; I'll feel a lot better once we win it all. I want the 'little guy' (Ector) to shine."
The trip to College Station will be Grijalva's first for state level competition in any sport and it feels 'really good.' His partner, Whitburn, has been to the softball state tournament, but this experience is a first for her in tennis; and it feels 'great.'
"This is the time for tennis to shine," said Whitburn, a senior.
*****
Origins of Ector Tennis
Coach Johnson, the native son, said the tennis program started in the mid-1980s with a girl's team. Closer to the 1990s, a boys team was added. There was some success with the first state participants qualifying in the mid-1990s. The program leveled off for a decade with occasional success, mostly doubles, but then in 2009, a streak began.
"We have been both boys and girls district champs for 11 years in a row," explained Johnson. "And even though we have had some go to state before, this is the largest group in school history. As far as I know, only eight have made it to state in all these years; and now, we have almost that many going at one time."
Part of the success is due to a junior high tennis program that Johnson said started paying benefits about five years ago. Those junior high players are now some of the ones participating at the state level. And now, Ector has the second most participants (seven) in the Class 1A tournament this year. Knippa, in south Texas, has 10.
"We didn't have a junior high program until about 2003; there were smaller numbers, but it has grown," explained Johnson. "We have actually had some success playing bigger schools (Class 2A and above) with our junior high kids."
In fact, this success at the lower grades breeds success at the high school level. Ector played in seven tournaments in 2019 and didn't play any 1A schools until the district meet at the end of the season.
"When you have that success at the junior high level, then more want to play and it stands to reason that more talent will be in your program through the years to high school," said Johnson. "Our juniors now were part of one of the largest junior high groups we've ever had. Twelve of those 14 Ector regional qualifiers this year are juniors."
Another aspect of Ector's success is the combination of the sport itself and the culture at Ector High School. In this small, close-knit rural school, the kids want to be with their friends doing something fun; being on the tennis team puts those two things together.
"I saw the older kids playing when I was in seventh grade; it was cool to play and it turned out to be really fun," said Grijalva, a junior. "I love playing with Destiny; we communicate after every point. We high-five, handshake or whatever we're feeling!"
J.B. Johnson and Essary have been together as a team for three years—'Coach decided we were good together, so he put us together,' said J.B. The boys have spent years playing in tournaments around the state during the summer to improve their game. They have even had private lessons and sought out courts and clubs to play.
"I started out playing for the fun of it, but got to know these guys and really love being part of this team," explained J.B. "It's such an adrenaline rush to play and be a part of this team."
Essary's father taught him how to play early on, so when junior high came along, he was ready to go.
"I enjoy getting to redeem myself every play; there's something new every serve," he said.
Nelms noted that he got involved with the tennis team when he saw his friends playing at lunch on that converted basketball court.
"It's just a fun sport to be around," said Nelms, also a junior. "Your opponent will even help you during a match; it's a polite sport. It shows respect; and I like having that, too."
"I love putting that forehand spin on the ball and watching it go," added Nelms with a smile "I have played five years for Ector; and have loved every minute of it."
*****
Players Thoughts
Understandably, the members of the team are excited to compete at the highest level, but also to be there for their school.
"It's cool to know you are representing Ector at the biggest tournament in the state," said Essary.
Nelms, who qualified for the state tournament for the first time, was second in district three years in a row, but bowed out early at the regional tournament both previous years.
"I like tennis; you get to challenge yourself," said Nelms. "Although, it would be cool to have a partner, I enjoy singles. I am glad to be representing my school and being part of this team. We are ready."
Grijalva is happy to 'get past districts' as this is his first time to advance to state competition. He wants to have fun on the court and do his best with partner, Whitburn, who he has known since first grade.
"I didn't make regionals as a freshman, but was fourth as a sophomore," explained Grijalva, a five year veteran of the Ector program. "And now, we are runner-up out of 16 mixed doubles teams in our region. It's so cool! Ector is really a small town; it feels good to help put it on the map."
Whitburn, who competed in girls doubles until her senior year, is set to have fun on the highest court. She finished on the alternate team three years in a row at the district level; now it's on to state.
"I remember seeing them play in junior high; I always want to try something different, so I did," said Whitburn who has been in the program for six years. "I liked it; and it was so much fun. Can't wait!"
"It's such an adrenaline rush," proclaimed Grijalva. "You always have to be ready!"
School officials are also excited about these Ector students on the biggest stage in the state. It not as common of an occurrence as they would like, but it's a solid trend up for the Ector athletic department.
"These kids just got the bug as seventh graders," said Johnson. "They have spent a lot of their own time getting better and it shows. I feel good about their chances; I am proud of them. It's all them; I don't take any credit for it."
"We have some great kids here in Ector," said Brad Evans, EHS principal. "They always represent us well. They will show the state what kind of competitors we have. I know they will do well."
Even though there is a post office, Ector only boasts one signal light and one local store, but now these young tennis enthusiasts can bring some love to the game of tennis and make their town's name known among the powerhouse schools across the state.
*****
At the state tournament, the Class A schedule includes Essary/Johnson taking on the duo from Garden City at 11 a.m. Thursday; Nelms sets up with Nueces Canyon at 8 a.m. Thursday; and Whitburn/Grijalba match with Sterling City at 1:30 p.m. Thursday. Semi-final matches are held later Thursday while finals matches are set for Friday.