Local News
Meeting on proposed I35W frontage road improvements set for May 16 at Argyle Middle School in Roanoke
May 16, 2019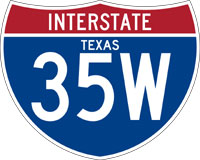 Roanoke, Texas -- The Texas Department of Transportation (TxDOT) will hold a public meeting this week to highlight potential frontage road improvements to Interstate 35W.

The public meeting will be held from 6:00-8:00 p.m., Thursday, May 16, at Argyle Middle School, located at 6601 Canyon Falls Drive, Roanoke.

The meeting will be done in an open house format, with no formal presentation. Representatives from TxDOT and project consultants will be available to answer questions about the proposed improvements.

The proposed project includes the construction of northbound and southbound frontage roads for I-35W from Dale Earnhardt Way in Fort Worth to south of the I-35E/I-35W interchange in Denton. The frontage roads would consist of one 12-foot wide inside travel lane, and one 14-foot wide outside shared-use lane with two-foot wide curb offsets, and a six-foot wide sidewalk in both directions.

The 12-mile project would cost approximately $296 million. TxDOT could seek contract bids for the project as early as 2023.

Project information and maps will be available for viewing at the public meeting, and available online at http://www.keepitmovingdallas.com/.

For media inquiries, contact TxDOT Public Information Officer Ryan LaFontaine at Ryan.LaFontaine@txdot.gov or (214) 770-1020.