Sports
Ector's Destiny Whitburn signs with PJC
May 16, 2019
Ector, Texas -- After propelling the Ector Lady Eagles to unprecedented success for the past three seasons, Destiny Whitburn will take her game to the next level when she plays softball next year for Paris Junior College.
Surrounded by teammates Tuesday, Whitburn inked the deal.
A natural athlete, Whitburn could play any position at PJC, but it was her work in the circle that carried Ector all the way to the state title game.
Whitburn was a multi-sport standout at Ector, where she also excelled at basketball and advanced to the state tournament in tennis.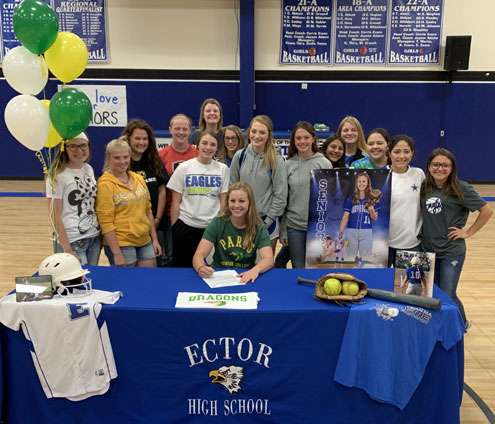 Surrounded by her teammates at Ector, Destiny Whitburn inks the deal to play softball at Paris Junior College. photo courtesy Ector ISD