School News
Creative Arts Center's Summer Camps
Jun 10, 2019
Bonham, Texas -- This year, Summer Camp weeks at Creative Arts Center in Bonham are June 10-14 and 17-21 and July 15-19 and July 29-August 2. Both art and theater will be offered, as in past years with theater in the morning from 10:00 a.m. to noon and art in the afternoon from 12:30 p.m.-2:30 p.m. Either a morning or afternoon session is $60 for the week and for both sessions, the cost is $100 for the week.
The CAC will once again offer $10 off a sibling enrollment and scholarships are available.
The July camps will be taught by Eric Vest and the center is seeking a theater instructor for the June camp dates. Art in June dates will be taught by Di Hopkins. Camps are for children from 6 to 16 and no experience is necessary.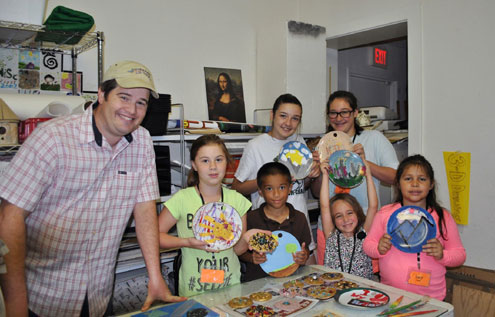 photo by Mavis Duncan
Art is a great way for children to express themselves without judgement or a grade and students are encouraged to put their own unique spin on their art. Theater arts are a great way for children to learn how to speak in front of a group; students also present a performance at the close of the week on Friday. Putting a performance together teaches teamwork and responsibility and children make friends they might not otherwise meet.
Enrollment begins in May. For children who participate in both theater and art, they are requested to bring a sack lunch. A lunch break will be from noon to 12:30 p.m.
For more information on Summer Camp, Art in the Park, Art in the Afternoon classes or any other children's program, call the Creative Arts Center at 903-640-2196. Advance registration for camp is required. Stop by to pick up forms today!