Columnists
Which way will I run? Memorial Day 2019
May 29, 2019
Memorial Day presents an opportunity for us to pause, recognize our veterans, and remember those who have fallen in service to our nation.
We the living are the recipients of those great blessings of liberty and freedom for which many have given their last full measure.
Those who answered the call were our young, our best, our warriors, and they came from all walks of life. They were a diverse group of individuals and yet they were all bound by a common thread . . . they loved freedom and liberty more than life itself. When confronted by fear they chose honor and courage in that time of darkness by putting all they had on the line . . . without hesitation they ran to the sound of battle.
This Memorial Day I want us to remember three great patriots and allow their wisdom to give us a deeper insight into the significance of Memorial Day.
President Abraham Lincoln in his address at Gettysburg said:
"The world will little note nor long remember what we say here,
but it can never forget what they did here."
It's a sad reality today, that much of our society has forgotten the significance of our history. In doing so we greatly increase the risk of embracing notions that are of great consequence to our society and our nation.
Many today have signed on for that "free lunch" . . . unfortunately many will be devastated when they face reality and realize it never existed.
We owe our veterans a debt which we cannot repay. We must never forget.
On October 3, 1789 President George Washington proclaimed a Day of Thanksgiving with this statement:
"It is the duty of all nations to acknowledge
the Providence of Almighty God, to obey
His will, to be grateful for His benefits,
and humbly to implore His protection and favor."
History is littered with the wreckage of great nations that have forgotten God. Our liberty, our freedom, and our bountiful life flow from the grace of God our Creator. We should give thanks to God.
Another of our Founding Fathers was Dr. Joseph C. Warren. When he was a young man he fought and died at the Battle of Bunker Hill. Dr. Warren was not as well known as others, but the great impact of his life on the founding of our nation should not be overlooked.
You may have asked yourself," What can I do today?" I believe this is what Dr. Warren may have said to you:
"That it is an indispensable duty which we
owe God, our country, ourselves and
posterity, by all lawful means in our power,
to maintain, defend and preserve those civil
and religious rights and liberties for which
many of our fathers fought, bled, and died,
and to hand them down entire to future
generations."
Memorial Day is more than a gathering, more than a picnic or a shopping spree at the mall.
We should remember those who did not return home.
We should thank God for His grace and His bountiful blessings of liberty and freedom.
We should be asking ourselves, "What have I done for freedom today?"
As we recognize our veterans and remember those who have fallen in battle we should remind ourselves that Freedom and Liberty are never free.
This Memorial Day pause and listen, because not far away you may hear the sound of battle. Each of us must answer the question. Which way will I run?
Semper Fidelis,
Terry L. Blose
Sgt. USMC 1968-1972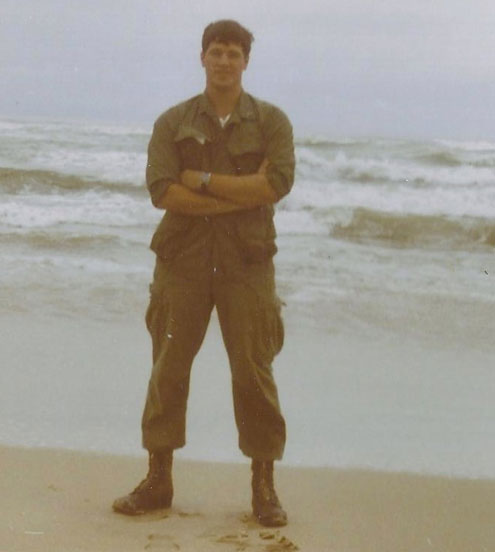 Terry Blose, age 19 on China Beach in South Vietnam