Lifestyles
Summer Yoga begins Wednesday, June 5 at Creative Arts Center
Jun 3, 2019
Bonham, Texas -- Do you have joint pain or stiffness? Would you like to increase your stamina and range of motion? Try "Yoga for the Rest of Us" taught by Mark and Linda at the Creative Arts Center this summer. Beginning on Wednesday, June 5, there are a number of time slots to sign up for. A minimum of 13 students is required to make the class and the available times are: Wednesdays at 8:30-9:30 a.m.; Wednesdays from 5:30-6:30 p.m. and Saturdays from 9-10 a.m.
The entire series of classes is twelve weeks and will run from June 5 through August 28, but participants can sign up for a half of the series. The first half series runs from June 5 through July 17 (with no class on July 3). The second half series runs from July 24 through August 28. The cost of either half series is $51, which is $8.50 per class, paid in advance. The full series of twelve weeks cost $84 which is $7.00 per class, paid in advance. The drop-in rate is $10 per class.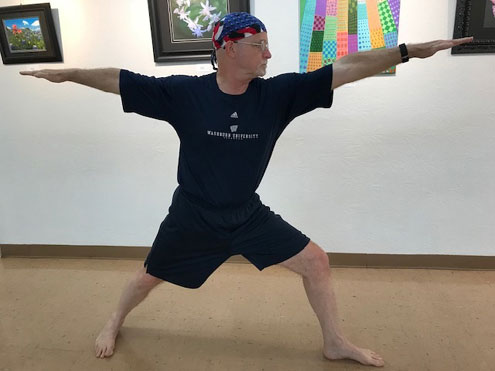 Participants must be at least 16 years of age and able to get down to the floor and back up again unassisted and should get an okay from their doctor to participate. A minimum of 13 students must sign up in advance, so call the Creative Arts Center and sign up today. Time slots may be combined if there is an insufficient number in one class. Instructors Mark and Linda are adults who know what it means to have jobs and kids - that's why this class is designed for busy people who just want to feel better. For more information, call the Creative Arts Center at 903-640-2196.
See our website for more details or the event on Facebook.
There is FREE OUTDOOR HOLIDAY YOGA on Monday, Memorial Day and Thursday, July 4 at 9:00 a.m. Meet on the grounds of the Creative Arts Center.