Local News
BEDCO invests in future workforce - Co-sponsors Bonham Public Library's 2019 Summer Reading Program
Jul 6, 2019
The Bonham Economic Development Corporation (BEDCO) followed in the footsteps of Bonham's largest private manufacturing employer – Clayton Bonham - in matching Clayton's earlier $300 contribution to the Bonham Public Library (BPL) for the 2019 Summer Reading Program.
In a Thursday afternoon check presentation fittingly held at the entrance to the Children's Area of BPL, BEDCO's Board President Emily Porter presented a check in the amount of $300 to Library Director John Hayden.
Porter observed "with record unemployment of just 2.3% in Fannin County it is essential that BEDCO join with our existing employers in investing in a variety of workforce sources for both the near and long-term economic vitality of Bonham and central Fannin County."
BEDCO's check matches an earlier contribution by Clayton Bonham. Hayden thanked Ms. Porter for BEDCO's investment in our "Future Workforce" and support of the Bonham Public Library's 2019 Summer Reading Program. He also credited Clayton Bonham for their timely support with their previous donation of $300.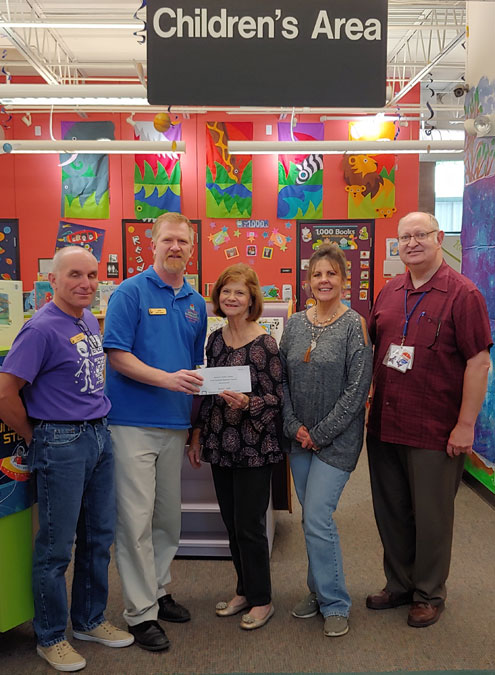 Pictured from left to right are: BPL Library Aide Duncan Berry, Library Director - John D. Hayden, BEDCO Board President Emily Porter, Vickie Stanley – Library Aide and Steve Filipowicz – Executive Director Economic Development, City of Bonham/BEDCO
If you would like to support the 2019 Summer Reading Program or for more information on the program contact the Bonham Public Library (903) 583-3128.
If you have questions about this press release contact Steve Filipowicz (903) 640-0717.