Local News
Five Fallen Warrior Portraits added to Hall of Heroes at Russell A. Steindam Courts Building, McKinney
May 30, 2019
McKinney, Texas, May 28, 2019 – The North Texas Fallen Warrior Portrait Project will present the portraits of five Collin County young men who died while in the service of our country, in a ceremony, Monday, June 3, at 11:00 a.m., at the Russell A. Steindam Courts Building, 2100 Bloomdale Road, McKinney. The portraits will be added to the 64 already displayed in the "Hall of Heroes" of the Collin County courthouse.
There are 416 names engraved on the "Wall of Honor" at the Veterans Memorial Park in McKinney, and the goal of the project is to put as many faces as possible with those names.
The portraits are created by US Air Force veteran Colin Kimball, who donates his time and talents; the printing and framing are paid for through donations of patriotic citizens.
The search for more names and faces continues at Collin County Freedom Fighters.com, where all 416 heroes are listed with bios. The five heroes to be honored are: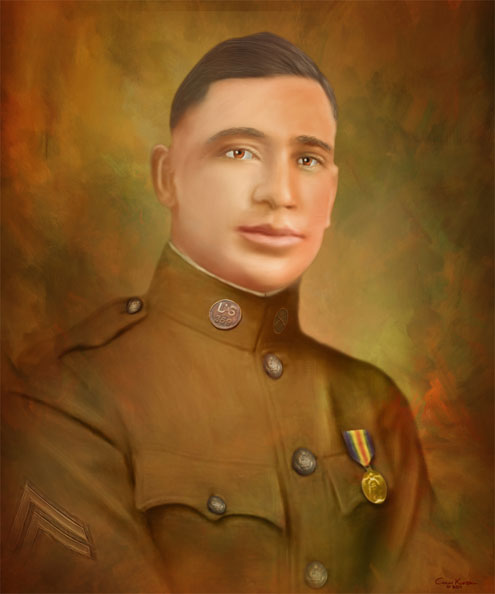 Albert E. Stelzer
ALBERT E. STELZER, 24, Celina, Cpl. US Army, Headquarters Plt. Co A. 359th Inf. Reg. 90th Div. Died 5 Aug. 1918 in WWI of pneumonia, in Recy, France. The first Collin County boy to die in the war zone. Buried at St. Mihiel American Cemetery, Thiaucourt, France.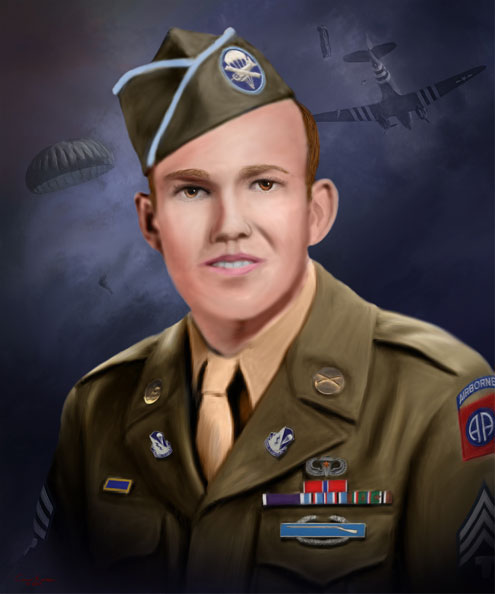 Glenn Hubbard Stevens
GLENN HUBBARD STEVENS, 22, Anna, Tech 4, US Army, 507th Parachute Infantry Reg. 82nd Airborne, Paratrooper. KIA in WWII during the Normandy invasion of France on D-Day, 6 June 1944, when dropped behind enemy lines. Awarded the Bronze Star. Buried at Leonard, Texas.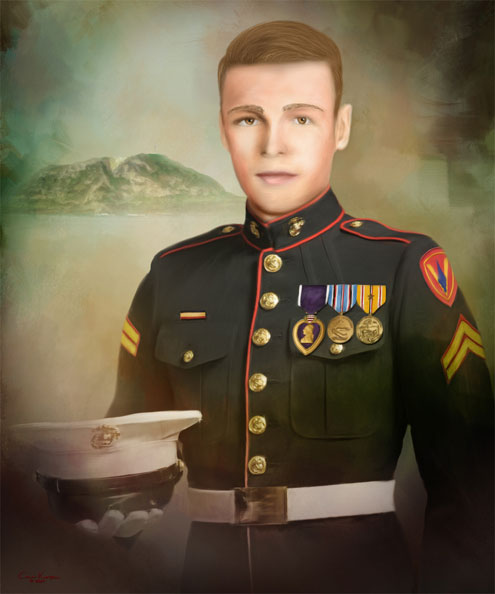 Jack Kirby
JACK KIRBY, 21, McKinney High School Class of 1942, Cpl. USMC, 28th Marines, 5th Marine Div. Paratrooper and Machine Gunner. KIA 28 Feb. 1945 at the Battle of Iwo Jima in WWII. Marines of his unit placed the flag atop Mt. Suribachi, for the historic Iwo Jima photograph.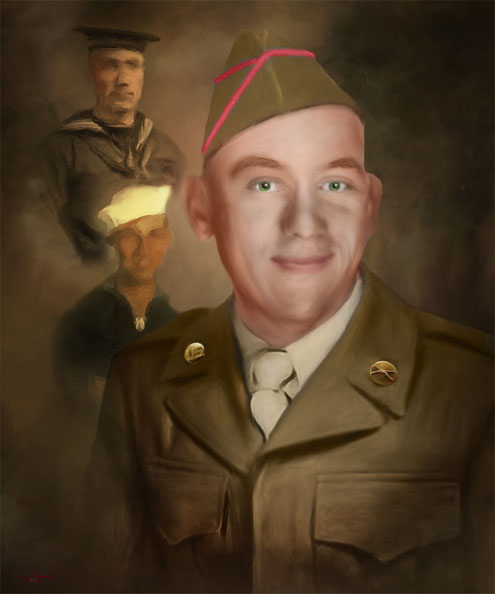 Evans O. Estep
EVANS O. ESTEP, 22, Anna, Private, US Army. Entered the Army during the War in Korea, died 10 May 1951, at Fort Belvoir, Virginia, while in training. One of three Esteps on the Wall of Honor. Buried at Cottage Hill Cemetery, Celina.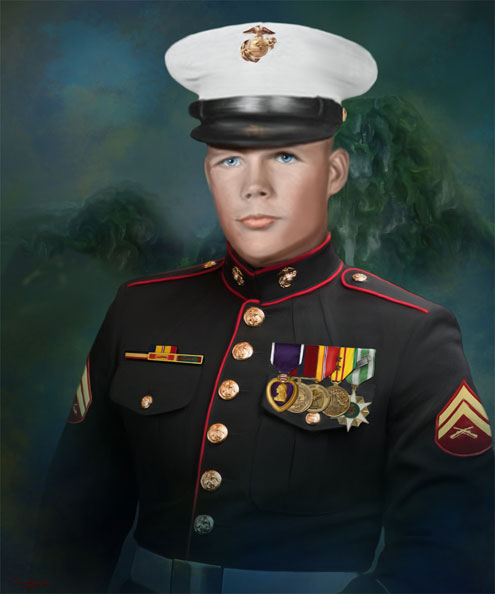 Darrell U. "George" Mahan
DARREL U. "GEORGE" MAHAN, 20, McKinney, Cpl. USMC, G Co. 2nd Bn. 1st Marine Regt. 1st Marine Div. KIA 19 Aug. 1967 when ambushed by Viet Cong near Chu Lai, South Vietnam. Buried at Ridgeview Memorial Park.
Joe S. Huston
JOE S. HUSTON, 20, Plano, Sgt. US Army, A Co. 2nd Bn. 1st Inf. Reg. 196th Light Inf. Brigade, Americal Div. KIA 19 Mar. 1969 during an ambush on the Ho Chi Minh Trail, Vietnam. In complete disregard for his life he went to the aid of wounded comrades who were lying in an open area completely exposed to enemy machine guns. He was cut down after picking up one of those men and carrying him back to safety. Awarded the Silver Star. Buried at Restland Memorial Park, Dallas.
For more information contact RD Foster at ccfreedomfighters@msn.com