Local News
Requests for Hwy 82 Yard Sale list and map
Jun 3, 2019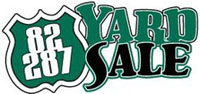 Bonham, Texas -- The Bonham Visitor Center is asking that you to list your yard sale with the Visitor Center so that we can put your sale on the list of Hwy 82 sales that will be passed out from the Visitor Center. June 7th and 8th are the dates for the Red River Valley Tourism Hwy. 82 Yard Sale this year. This is also the date of Trades Day. If you will be selling at Trades Day we will also put that on the list.

Our list will ask for: location of the sale, a phone number (if buyers are lost, or have a question) the days and hours of your sale. For example, if you can only be open on Saturday and you want your sale to start at 9:00 a.m. on Saturday, June 8, we will indicate this on the sale list. You will also need to advise us of your address and any directions that you think will help people locate your sale.

Come by the Bonham Visitor Center at 327 N. Main Street or contact us by email: info@visitbonham.com or Facebook at Visit Bonham.

We have also had requests for Junk in The Trunk again this year. If you would like to sell from the trunk of your car or the back of a truck in the parking lot at Main and 3rd Street either Friday, June 7 or Saturday, June 8 please come by the Bonham Visitor Information Center on the Southwest corner of Main Street and Hwy 56 to pick up a form to register for Junk in Trunk sales.

This sale is advertised on the Red River Valley Tourism web site @RedRiverValley.info as well as their Facebook page. The sale includes: New Boston, Clarksville, Detroit, Reno, Paris, Honey grove, Bonham. Muenster Saint Jo, Nocona, Bowie, Henrietta, and down 287 to Vernon and Quanah. It is publicized by Red River Valley Tourism Association members all across the northern section of Texas. Get rid of your treasurers and find new ones on June 7th and 8th. It is fun for the entire family.