Lifestyles
Union Cemetery Historical Marker Dedication held May 26
Jun 10, 2019
Mulberry, Texas -- The last sentence on the Texas Historical Marker unveiled Sunday, May 26, 2019 is a very fitting description of Union Cemetery.
The cemetery is a chronicle of area settlers, including generations of African Americans from slavery to emancipation to contributions in every aspect of society.
The cemetery was originally named Siloam Cemetery because it was adjacent to Siloam Baptist Church, which was established in 1870. The name changed to Union Cemetery in 1954 when Siloam Baptist Church united with Belfountain Baptist Church. Within its boundaries lie 150 years of precious family history, so the Union Cemetery Historical Marker Dedication Ceremony on May 26 also served as a sesquicentennial observance of hallowed ground.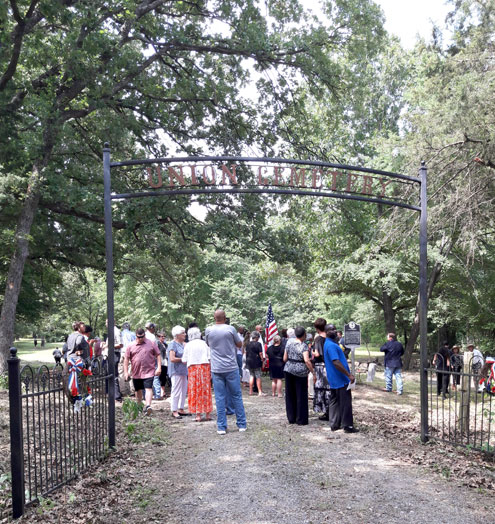 Elva Wright sang "The Star Spangled Banner" and David Woodson welcomed the crowd to Union Cemetery.
Audrey Rayford served as Mistress of Ceremonies.
Speakers included Tom Thornton and Larry Standlee of Fannin County Historical Commission, Vera Ross, John Vick of State Senator Bob Hall's office and Turner Coulson of State Representative Reggie Smith's office.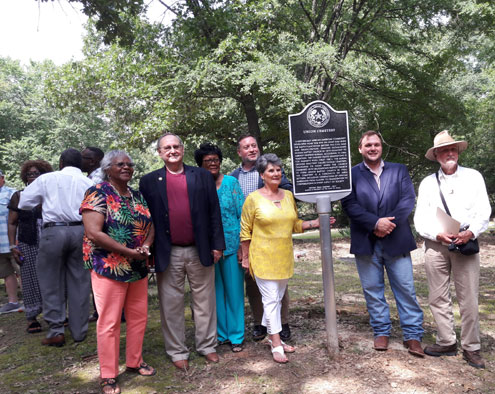 (L-R) Audrey Rayford, David Woodson (County Treasurer), Vera Ross (in green), John Vick, Laquita Crow (in yellow), Turner Coulson, Gregory Hall
Mickey Hill performed the unveiling of the Texas Historical Marker and closing remarks were by Dennis White, president of Union Cemetery.
Mulberry native Gregory Hall offered some poignant memories of this community.
First, think of the name "Siloam" in scripture, for an ancient site outside Jerusalem, a spring of water, where Jesus healed the blind man. It literally means "sending forth". Siloam here means "sending forth", from "Little Egypt" and "plantation".

"Union" here does not mean the cause for which Abraham Lincoln gave his life. It means the "union" of two believing churches in this close area, Siloam and Belfountain. Barack Obama in his speech, "A More Perfect Union" borrowed a line from a Southern writer, William Faulkner, which directs our attention back to another of today's words, "History".

Faulkner wrote: "The past is never dead. It's not even past."

And if that's so, not finished, it is appropriate to speak again for Dr. King: "I have a dream."

Look at the word "history". It needs another "s" to be "his story", her story, mine and yours. As I listened again to Audrey Rayford's interview with her uncle, Mr. Charley Hill, I heard him state, "Only Joe Choice (in "New Plot" now) and his father James had Freedom, because they'd fight for it."

Imagine now that you are walking alone down this shaded lane where Uncle Fount Oliphant would come in his buggy, or Uncle Milton Fitzgerald, blind, come "just pecking" toward his mail box, never getting lost.

Think about another way of "seeing". It came to me from a preeminent African-American writer, Toni Morrison, in her book, Beloved: Someday you be walking down the road and you hear something or see something going on. So clear. And you think it's you thinking it up. A thought picture. But no. It's when you bump into a rememory that belongs to somebody else. Where I was before I came here, that place is real. It's never going away. Even if the whole farm—every tree and grass blade of it dies. The picture is still there and what's more, if you go there...if you go there and stand in the place where it was, it will happen again, it will be there for you, waiting for you...."

Perhaps you are not convinced. Reading Ms. Morrison's book was like getting a hard shake. So this official Marker may be for us a gentle reminder that, because of the people we have known "here", the substance and meaning we now find in our lives have traces of the past, that is not "past".

In 1965, the year the Voting Rights Act was passed in this country, six young Africans visited Fannin County. They were based in Siloam and Mulberry with Charley and Lois Hill, and my parents. There was a public reception where welcoming black and white people rejoiced together.

Afterwards, I overheard "Miss" Lois say, "I enjoyed it all, but the best part was seeing all the beautiful people."

Like us, here today.

Mickey Hill (right) unveils the Texas Historical Marker as Dennis White looks on.

Vera Ross




Gregory Hall




John Vick




David Woodson




(L-R) Ronnie Hill, Curtis Brown, Dennis White, and Mickey Hill (looking at marker).


courtesy photos