Local News
McKinney Fire Department honored for treatment of heart attack patients
May 31, 2019
MFD receives 2019 Mission: Lifeline EMS Silver Recognition
McKinney, Texas (May 30, 2019) – The McKinney Fire Department (MFD) received the 2019 Mission: Lifeline EMS Silver Recognition Award from the American Heart Association. The award honors MFD for providing superior care and treatment for patients suffering heart attacks.
The Mission: Lifeline Initiative recognizes emergency medical services for efforts in improving systems to rapidly identify suspected heart attack patients, triggering an early response from the awaiting hospital personnel.
MFD treated 564 heart attack patients in 2018.
"The McKinney Fire Department is committed to providing the best care for heart attack patients," said Charlie Skaggs, EMS Chief. "Our partnership with local hospitals is getting that critical care for cardiac patients when seconds count."
Heart Disease (including Coronary Heart Disease, Hypertension, and Stroke) remains the No. 1 cause of death in the U.S.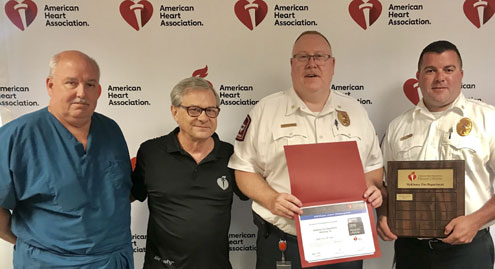 More safety information can be located at www.mckinneyfire.org or www.nfpa.org.