Farm and Ranch
Collin County AgriLife Extension sets third Landowner 101 program for June 14 in McKinney
Jun 14, 2019
McKinney, Texas -- Texas A&M AgriLife Extension Service in Collin County is excited to start the third workshop in the Landowner 101 class series at Myers Park and Event Center at 8:00 a.m. on June 14 in McKinney, Texas. The third of five workshops, this class will focus on managing and maintaining ranch structures, outbuildings, and infrastructure, along with fencing, and wildlife management and control.
The cost to attend the class is $30, which includes a lunch sponsored by Heritage Land Bank in McKinney, coffee, donuts, and class materials and publications.
Speakers at this program include:
Chase T. Brooke – County Extension Agent – Agriculture & Natural Resources, Collin County
Mackenzie Moore - District Conservationist, USDA Natural Resources Conservation Service
Trent Marker & Cane Shumaker – Game Wardens, Texas Parks & Wildlife Department
Coffee, chicken fried steak lunch and class materials will be provided at the program.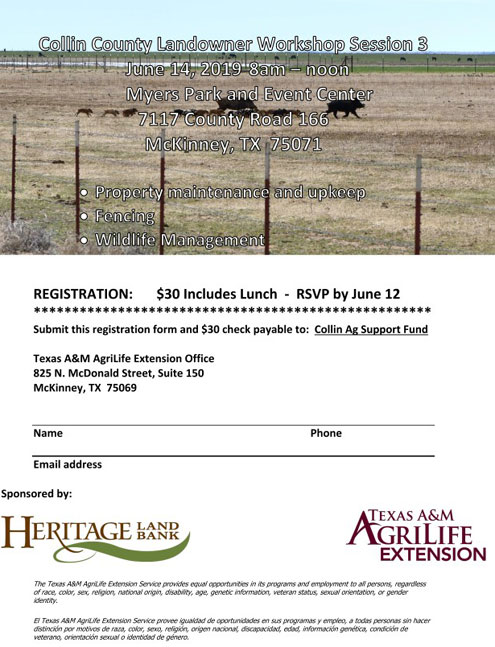 Class Location: Myers Park and Event Center, 7117 Co Rd 166, McKinney, TX 75071.
Class Schedule:
· 8:00-9:30: Chase T. Brooke - Facility & Infrastructure Management on the Ranch
· 9:30-10:30: Mackenzie Moore – Fencing maintenance and management
· 10:30-10:45: break & door prize drawing
· 10:45-11:45 Trent Marker; Cane Shumaker – Game animals, wildlife management, laws and regulations.
· 11:45-Noon: Open floor for questions
Participants may RSVP by mailing or dropping off a registration form with a check (payable to Collin Ag Support Fund) to the Collin County Extension office located at 825 N. McDonald St, Suite 150, McKinney, TX 75069.
The course registration form may be downloaded by following this link: http://counties.agrilife.org/collin/files/2019/05/Landowner-101-Session-3-Flyer-6-14-19.pdf
Questions about the program or registration may be sent to the Collin County Extension Office at (972) 548-4232 or chase.brooke@ag.tamu.edu.