Lifestyles
Fannin County Family Crisis Center receives $600,000 donation from estate of Dr. Henry Spies
Jun 4, 2019
Fannin County, Texas -- On May 30, 2019 a presentation was made by the executors of Dr. Henry Spiesí estate, Clifton and Betty Evans, along with his attorney, Sharron Johnson to Fannin County Family Crisis Center. Dr. Spies was very generous and very private. For approximately ten years or so he has donated to the crisis center and requested no public recognition. He did not even like to receive thank you cards. Since his passing the family and executors have allowed his recognition.
As previously stated, Dr. Spies has been very generous to the crisis center over the years, he even donated the funds to buy our current office building. In his will he left most of his estate to various non-profits. Fannin County Family Crisis Center received $600,000.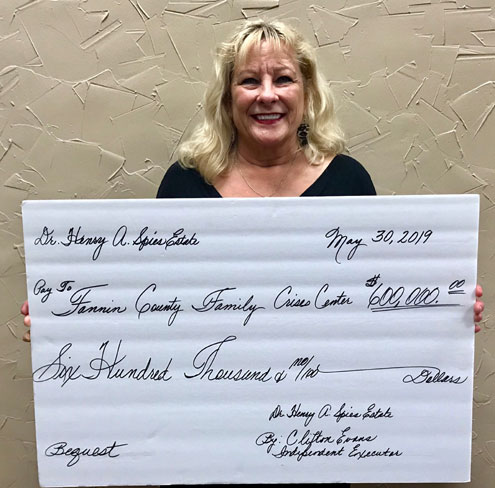 The staff and board of directors of the crisis center feel extremely blessed to have had this man in our lives. This donation will assure that services for crime victims in Fannin County can be provided for many years to come.
THANK YOU DR. HENRY SPIES!