Local News
Bank of Windom granted official Texas historical recognition
Jun 15, 2019
Windom, Texas -- The Texas Historical Commission (THC) has recognized the Bank of Windom as a significant contributor to the state's history by awarding it an Official Texas Historical Marker. The designation honors the Bank of Windom as an important and educational part of local history.
A dedication ceremony to commemorate the event will be held on Saturday, June 15, at 11:00 a.m. at the historic bank building located at 501 Main Street in Windom, Texas. Speakers at the event will include Larry Standlee, Chair of the Fannin County Historical Commission; Bryan Peeler, Chairman of the Board and Owner of Fannin Bank; Allen Sanderson, Vice-Chairman of the Board and President of Fannin Bank; the Honorable Donnie Cobb, Mayor of the Town of Windom; the Honorable Dean Lackey, Fannin County Commissioner; and Chris Ebling, owner of the historic building. The Fannin County Historical Commission welcomes the public to share in and witness this commemoration.
"It is vital as we move forward that we do not forget our past. The Bank of Windom Historical Marker provides awareness of our fascinating history to members of our community and guests, and it will become a building block for the promotion of local tourism," said Larry Standlee.
"The THC granted the Bank of Windom a subject marker, reflecting the importance of banking to Windom and the surrounding community throughout its history," said Chris Ebling.
"In the late 1800s, prosperous farms and businesses in and around Windom generated a need for working capital and local banking services" he explained, describing the bank's origin. "Recognizing this need for local banking services, a group of local business owners opened the private Bank of Windom in 1900, located initially inside F. C. Council's store. In October of 1902, the bank relocated to a new brick structure on the corner of Main and 2nd Streets."
"As I was researching the history of this building, Evelyn Montgomery, the former Director of Collections, Exhibits and Preservation at Dallas Heritage Village, shared with me that it likely was built by a group of itinerant masons who replicated this same structure for banking businesses across North Texas. Today only three of these bank buildings remain in the area: one at Old City Park in Dallas, another in the town of Ponder in Denton County, and this one in Fannin County," said Mr. Ebling.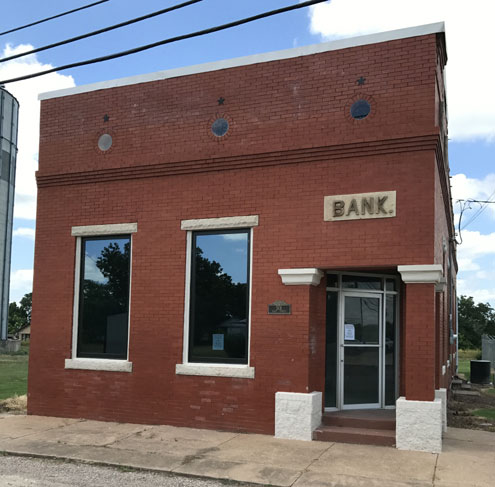 As Fannin County embraces new opportunities and challenges of the twenty-first century, the historic Bank of Windom provides an important link to the rich heritage of the region. By recognizing the historic significance of the Bank of Windom through the historic marker program, the Texas Historical Commission has ensured its continued relevance for future generations of Texans.