Obituaries
Bruce Arthur Thomas Sr.
Jun 3, 2019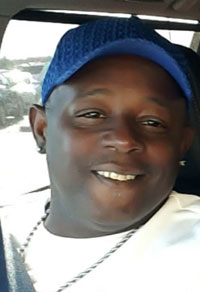 Bonham, Texas -- Bruce Arthur Thomas Sr., affectionately known as "Batman" passed away on Thursday, May 30, 2018 at the age of 53. He was born on August 27, 1965 to the late Gwendolyn Thomas and Eddie Boisseau. He is a native of New Orleans and a resident of Bonham, Texas for the past 5 years.

Bruce pursued a degree as an Electrician at Kansas State University. He served 10 years in the US Army (Desert Storm and Kuwait). After his time in the military, Bruce found passions in many work trades and walks of life, within his time he touched many hearts and adventured many. He never stopped dreaming big.

Beloved father of Porscha, Laura, and Bruce Thomas, Jr. (Donesia). Grandfather of Adrianna Thomas. Brother of Cynthia Townsend, Lucretia Terrence, Chris Thomas, Joanell Holmes, Cordell Thomas, Alanda Harris, and Troynetta Thomas. He also leaves to cherish his memories a host of aunts, uncles, nieces, nephews and friends.

Bruce became an ordained deacon at Bethlehem Baptist Church along residing Pastor Rev. Stuart P Courtney. He was part of the Deacon, Bus, Armor Bearer, Audio Visual, and Security ministries. He also worked for Lockheed Martin, Bonham Hardware, Bonham FixNFeed and Poodle Dog Groomer.

A Celebration of Life will be on Wednesday, June 5, 2019 at Bethlehem Baptist Church, 1514 Franklin Ave, Bonham, Texas from 5:00 p.m.-8:00 p.m. Burial is Friday, June 7, 2019 at Mount Olivet Cemetery in New Orleans, Louisiana.