Sports
Bonham's Melanee Lewis signs to attend Oklahoma Wesleyan University
Jun 4, 2019
Bonham, Texas -- After honing her skills on the hardwood at Bonham High School, senior Melanee Lewis has signed to play basketball for Oklahoma Wesleyan University, an evangelical Christian university of the Wesleyan Church with a main campus in Bartlesville, Oklahoma.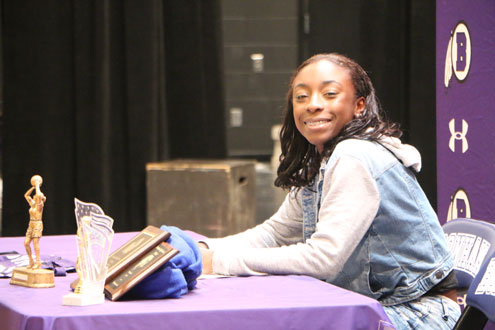 Melanee Lewis
As excited as Lewis is over taking her game to the next level, she is quick to thank all the people who made signing day possible.
"I am very grateful for this opportunity," says Lewis. "It means a lot to me. I want to thank all my teammates, coaches and teachers for helping me both on and off the court; without their support and always looking to push me to be my best, this would have never happened. I also want to thank my family (especially my mom and dad) for all of their love and support throughout the years."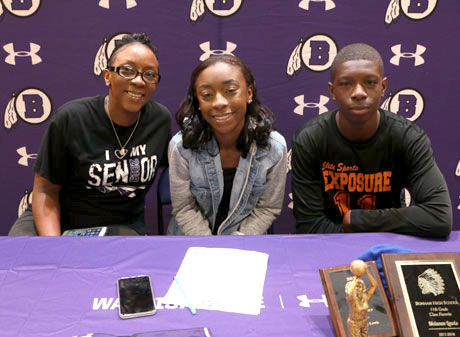 (L-R) Tamisha Shellman, Melanee Lewis and Tyler Addie
Lewis developed into a college athlete under the tutelage of Bonham head girls basketball coach, Vince Morgan.
"Unfortunately I only got to coach Melanee her last two years of high school. She is an exceptional player with tremendous ability," remarks Coach Morgan. "She has a lot to offer Oklahoma Wesleyan and I wish her all the success as she makes the move to play and attend college at OWU. The best thing about Melanee is that she is even a better person, someone you can really root for. I know that no matter what she wants to do, she will be successful because of the person she is."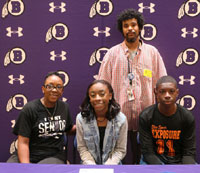 photos by Jordan Thompson/Bonham ISD