Local News
Reba's Ranch House gives thanks
Jun 9, 2019
Sherman, Texas -- Over 90 guests gathered together at the Sherman Municipal Ballroom for the 7th Annual Reba's Ranch House Meal Ministry and Volunteer Awards Luncheon. "Our goal is to offer needed housing for families who have traveled from out of this area to be with their loved ones who are patients in our area hospitals," said Reba's Ranch House Director Marilyn Bice. "And it is so wonderful to see our volunteer base grow each year."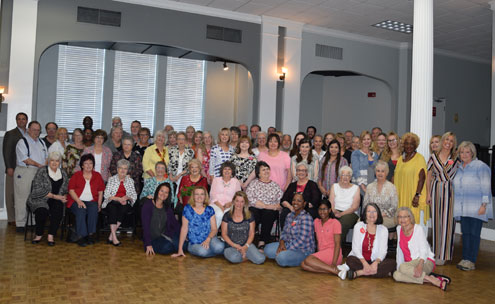 William Myers, Chairman of the Texoma Health Foundation, welcomed the group and thanked everyone for their support and commitment to Reba's Ranch House. "Each of the recipients today and all of our volunteers share their gifts to help us do more for others," said Myers.
The ceremony's most prestigious award was given to local volunteer Julia Ringler. Each year the Betty Holland Volunteer of the Year Award honors an outstanding community volunteer who exemplifies the qualities of dedication, service and care to others that were represented in long-time Reba's Ranch House volunteer Betty Holland. Bice stated, "Julia is the photographer who is always in the background snapping photos at all of our events. She always gives so graciously of her time and talents with such a kind, compassionate servant heart."
Julia Ringler
"What an honor and surprise to receive the Betty Holland Award and to be a part of her legacy of devoting time and love to Reba's Ranch House," said Ringler.
Since Reba's Ranch House first opened its doors in 1991, area churches have played an important role by bringing in warm meals to feed families staying at the House. This ministry has grown to include both churches and organizations from across Texoma. "The work of the meal ministry program makes our house a home," said Bice. "Guests begin and return from long stressful days at the hospital to a house filled with the comfort and smells of a loving home."
The Community Organization of the Year Award was presented to Dillard's. "Over the years, the Ranch House has received support from various organizations that invest significant time, talents and dollars," said Kitty Richardson, Texoma Health Foundation's COO. "This year we collaborated with Jenny Goodman with Dillard's, along with assistance from Reba Inc, Justin Boots and our Shindig Committee, to create and successfully launch a special progressive style show at the Ranch House that helped raise funds for the soon-to-be Granny & Doc Playground for our younger guests."
The Room for Hope at Reba's Ranch House provides wigs, blankets and prosthetics at no charge to women and men in their fight against cancer and helps cover the cost of cancer treatment and surgeries through the patient assistance program. Rita Williams was recognized as the Room for Hope Volunteer of the Year for her hours of dedication to helping cancer patients in need. "Volunteering at the Ranch House and Room for Hope have truly enhanced my life and I am so honored to have received this award," stated Williams.
Student interns play such a vital role in supporting the needs of the Ranch House by working the registration desk, touring guests, assisting with laundry and kitchen duties plus many other requests. Grayson College nursing student Cheyenne Pool was named Intern of the Year and praised by Jeri Carosella, Ranch House Guest Services, for her efficiency, positive attitude and great work ethic.
The Grayson Co-Op Program was also recognized for their outstanding service. Twice a week the students attend school at Reba's Ranch House,
and they sweep, clean laundry, make beds and do other household chores in order to gain life-skills.
Reba's Ranch House is a project of the Texoma Health Foundation. The House serves families visiting loved ones in area hospitals by providing a home-away-from-home. The House has twelve private guest rooms and shared living quarters including a full kitchen, playroom and library. Thanks to local churches participating in meal ministries, the House also provides warm meals each week to guests. To learn more about Reba's Ranch House visit www.texomahealth.org