Local News
Megan Robinson named City of Bonham Employee of the Month
Jun 14, 2019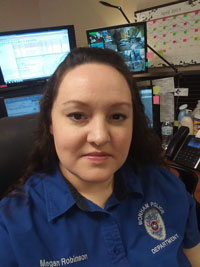 Bonham, Texas -- Megan Robinson is the most recent example of an outstanding employee recognized by the City of Bonham. Megan is the Dispatch Supervisor for 911/Telecommunications for police/fire/EMS and has worked for the City of Bonham for 19 years. She was recognized as May 2019 Employee of the Month for the City of Bonham during a regular meeting of Bonham City Council June 10.

Megan is described as an integral member of police/fire departments who performs her very best every time she is at work. She treats everyone with respect and goes above and beyond what is expected of her. Megan is constantly concerned with police, fire/EMS, and telecommunicator safety and her passion for her career is on display every shift.

"Megan is one of those employees you can always count on to do the right thing," Bonham Police Chief Mike Bankston stated.

Each Employee of the Month receives four hours of paid time off and a $50 gift certificate. At the end of the year, the Employee of the Year will receive eight hours of paid time off and a $250 gift certificate. The awards are part of an initiative to provide more incentives for city employees.

*****

Bonham Municipal Court Judge John Skotnik administered the Oath of Office to recently elected councilmember Tim La Vergne II.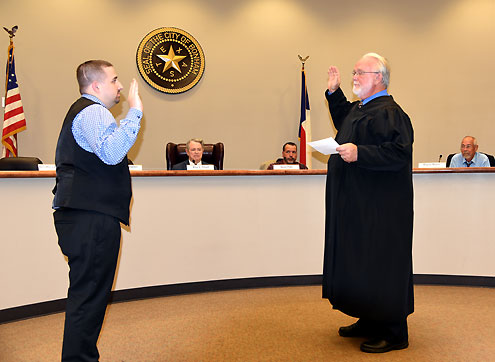 (L-R) Tim La Vergne II and Judge John Skotnik
Mr. La Vergne received a writing pen crafted from local bois d'arc wood by David Keene. At one time, Bonham was known as Bois d'Arc, Texas before the name was changed to honor James Butler Bonham, one of the heroes of the Alamo. Mr. Keene works almost exclusively with bois d'arc wood and serves as ambassador of the bois d'arc kingdom.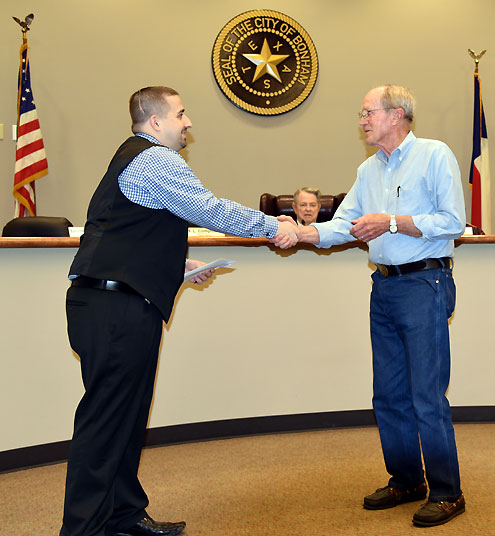 (L-R) Tim La Vergne II and David Keene
Two residents addressed Bonham City Council during the segment of the regular meeting reserved for citizens opportunity to speak.
Jeri Johnson expressed an interest in the concession lease at Lake Bonham, with the concept of operating the business seven days a week.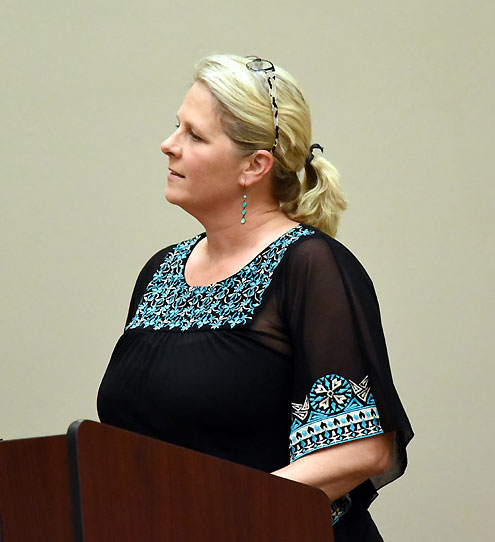 Jeri Johnson
Jay Minton voiced concerns over the safety and condition of Nolan Ashmore Way, a winding street that runs between Bonham High School and Warrior Stadium. The street is on school property, but utilized primarily by the public accessing Hwy. 121 North. Mr. Minton noted the lack of an official crosswalk for students going back and forth between high school and the stadium.
*****
Dave Struchtemeyer, CPA, Director of Finance for the City of Bonham, presented the May 2019 financial report to Bonham City Council.
"With 33% of the budget year left, we have a little over 32% of our budget left on the General Fund and approximately 34% of our budget left in the Water Sewer Fund," Mr. Struchtemeyer reported. "Revenues for both funds continue to track as expected for the year. As is always the case, we are tracking very tight to the budget. This is the time of the year where cash outflows on the General Fund are greater than cash inflows as the majority of general fund revenues are collected by March. We will continue to monitor expenses closely to meet the Fiscal Year Budget."
"We continue to progress with the new accounting and billing system," noted Struchtemeyer. "The Payroll module went online in May and we experienced no major hiccups and we are still on track to bring the Water Sewer Billing module online in July."
Struchtemeyer added that city department heads are currently working on their budgets for next year and a budget calendar will be sent out next week.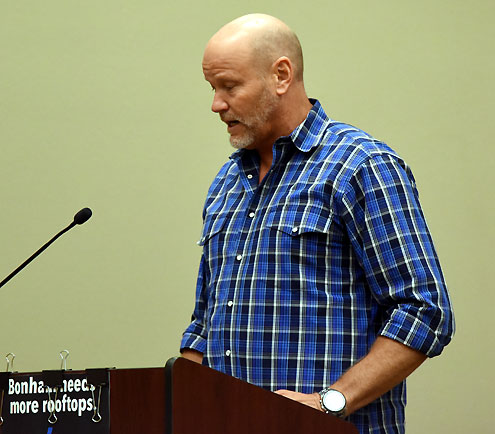 Dave Struchtemeyer
Bonham City Council held a public hearing and then adopted an ordinance that revised the City of Bonham's water conservation and drought contingency plan. The adoption of this ordinance was a necessary step to access Texas Water Development Board loans for the water distribution system improvements and sanitary collection system improvements.
*****
Bonham City Council recessed into executive session with the city attorney to consider the lease of the Java Joint at Lake Bonham.
City council reconvened and unanimously voted to terminate the lease for nonperformance.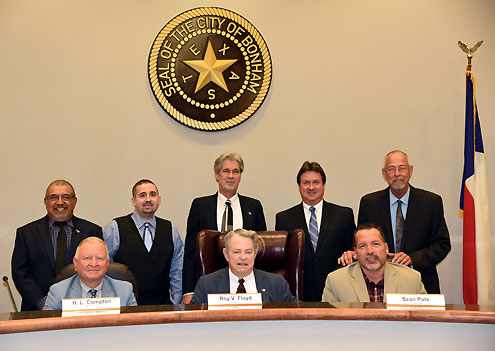 Seated (L-R) Bonham Mayor Pro Tem H. Compton, Bonham Mayor Roy Floyd and Bonham City Manager Sean Pate. Standing (L-R) Councilmembers Tony Rodriguez, Tim LaVergne II, Bill Chapman, Kevin Hayes and Wayne Moore