Local News
Legendary Texas singer-songwriter George Ensle to play at Harmony House Concerts
Jul 14, 2019
"Every time I witness someone hearing his songs for the first time—or maybe just the first time in a long time—it is a treat to watch them recognize what I have known all along: George Ensle writes great songs. And his delivery holds them up."
-- Dalis Allen, Producer Kerrville Folk Festival
Fannin County, Texas -- George Ensle (pronounced Enslee) is one of those singer-songwriters who make Texas proud (he resides in San Marcos). You are invited to hear his unforgettable songs in our living/dining room at Harmony House Concerts on Sunday, July 14, 2019, 4:00 p.m.-6:00 p.m.
George will play two 45-minute sets with a 30-minute intermission so guests can stretch, talk with George, buy his CDs (too many to mention, but a couple of his latest are mentioned later in this press release), get munchies at the snack tables provided, and/or pull weeds in the garden. Faye and Scott will provide bottomless cups of coffee, delicious punches made from organic juices and teas, and cheese and gluten-free crackers. A basket on the breakfast room table is for optional $1 donations to help defray expenses. Guests are requested to bring finger food treats to share; tables will be provided throughout this reclaimed vintage home for your goodies.
Reservations are required, since seating is limited to 50 guests.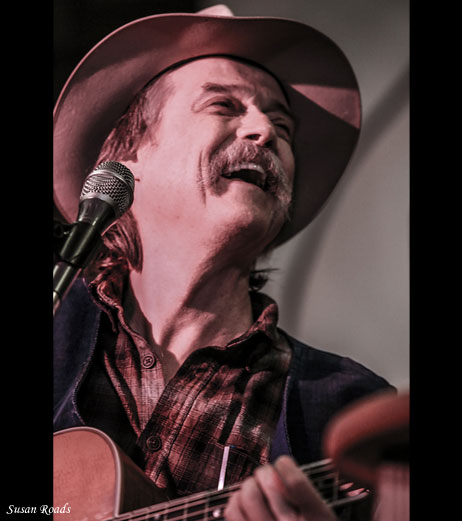 Reservations are $15 per person with all proceeds going to the performer. To prepay, you may send a check made payable to George Ensle to Faye Wedell; P.O. Box 812; Bonham, TX 75418, to be received by July 11th. However, guests may also pay at the door. (If you make a reservation, please have the courtesy to show up or cancel in a timely manner. No-shows are No-Nos! We keep a waiting list for sold-out shows.)
Harmony House is located at Wildscape Acres, 10 miles north of Bonham, TX and 65 miles NE of Dallas area. This house concert venue and its hosts Faye and Scott offer a welcoming hand to all guests and an opportunity for you to experience performing artists par excellence in an intimate setting within a serene, natural setting. To learn more about us, visit www.WildscapeAcres.com or go to Harmony House Concerts Group on Facebook to join the group and/or to check out each performer on the one-page flyer created about each event.
To learn more about George and to hear songs/watch videos, visit his website www.georgeenslee.com, go to his You Tube channel, or check him out on George Ensle/ReverbNation. Below, you will find out just few facts about George and his musical career and awards for his outstanding achievements in Texas songwriting.
Facts and quotes about George Ensle
George Ensle is a veteran singer-songwriter who began his career in Houston in 1967 sharing stages with legends Townes Van Zandt, Guy Clark and Billy Joe Shaver. He pens his own brand of StorySongs, powerfully crafted and played with his unique finger picking style on his vintage Martin D-35 and Fender Resonator guitar.
He is celebrating 50 years as a performing songwriter and, in February 2017, was inducted into the Houston Folk Music Archives at Rice University. He has won numerous songwriting awards, has been awarded government grants to teach children through the Artist in the Schools program, and has released albums and CDs in the US and Europe — including a Movie-in-Song CD Small Town Sundown, based on his original story and which he performs as a one man 'Songplay'.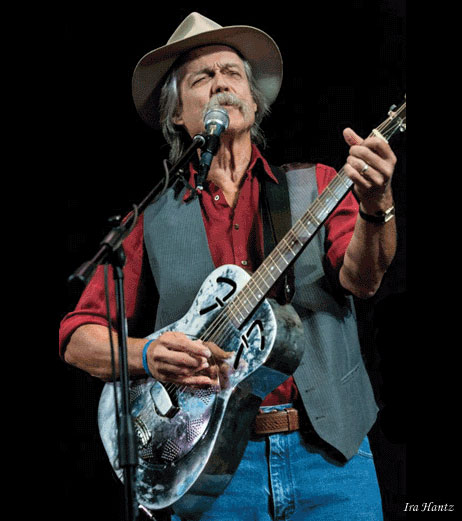 George is the originator and songwriting director of PortraitSongs — a custom songwriting service designed to pay tribute and honor loved ones by "giving them their own song."
He teaches songwriting workshops on the creative process and the crafting aspect of songwriting, in individual and group sessions.
George is a 'Song Painter'. He paints stories. Sometimes he uses broad strokes to paint hilltop sunsets, and tree-lined rivers, and sometimes he paints with fine detail the portraits of everyday people you feel like you know. Real characters like Uncle Jack, who is a young boy's hero, tucking him in on a summer Saturday night. Characters like the housewife who dances across her kitchen to a golden oldie, the Circuit Preacher down by the riverside, the widow across the street in her state of grace, the mother who sings her children to sleep beneath a third world moon, Grandma in her apron and Grandpa in his vest, the homeless vet, the single mom, the old character who runs the small town icehouse, the aging cowboy with his hired hands, the family farmer with his shining eyes, the troubadour as ragged as the wind and yet pure as the snow . . . George feels your musical journey should be an uplifting one, so he paints portraits with compassion mixed with a healthy dose of wit and wisdom. He paints real characters making it in the real world.
In George Ensle's CD Retrospective, he has retrieved and remixed a number of his older tunes on this collection from the Cosmic Cowboy days of the 1980s and 1990s. With the passing of Steve Fromholz, Rusty Wier, Kent Finlay and Steve Young, it seems like the right time to pull out the oldies but goodies, and that is just what George has done to put those of us back in that time and place with this mellow mix of guitar work and deep country vocals.
George's latest album, Home, presents warm, engaging, thematically linked selections packed with vivid characters, intriguing stories and insightful wisdom. -- John Lomax III, Nashville, Tennessee
George Ensle is now honored, documented and archived by Rice University, Houston Folk Music Archive. See photos, hear an oral history that includes song recordings — http://digitalprojects.rice.edu/houston-folk-music-archive/george-ensle-oral-history.