Obituaries
Janie Mae Tyson Hill
Jun 11, 2019
Leonard, Texas -- Funeral services for Janie Mae Tyson Hill, 92, of Bailey, Texas are scheduled for 12 noon, Saturday, June 15, 2019 at Mt. Eborn Baptist Church in Double Springs, Alabama. A Family Viewing and Visitation will be from 9:30 a.m. until service time at the Mt. Eborn Baptist Church. Burial will be in Mt. Eborn Cemetery at Double Springs, Alabama. Family viewing and visitation will be Wednesday, June 12, 2019 from 5:00 p.m. until 8:00 p.m. at Turrentine-Jackson-Morrow Funeral Chapel in Leonard, Texas.
Janie was born March 20, 1927 in Bessemer, Alabama. Her parents were Robert E. and Edna Maybelle Gardner Tyson. She married Luther M. Hill June 8, 1945 in Birmingham, Alabama. She was a retired machinist and a member of the First Baptist Church of Leonard, Texas.
Janie, known to everyone as Gran or Granny, loved to make blankets for all the babies, as well as for friends and family and she made a lot of them. Janie had the most beautiful smile that she shared with everyone she met. She always told people that she loved them because everyone needs to know they are loved.
Janie was a spunky old lady that loved to dress to the nines even just to go to the grocery store. She could never have enough shoes or purses. She loved her sisters, her children and her grandchildren without limits.
Janie also loved flowers, her puppies and most of all she loved her Lord and Savior. She was the heart and soul of her family and she will be missed greatly by all whose lives she has touched. Janie passed away Friday, June 7, 2019.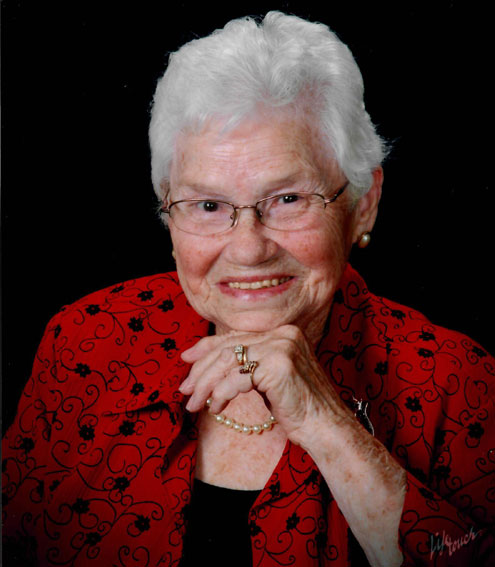 Janie is survived by her son: Roger Hill of Round Rock, Texas; her daughters and sons-in-law: Rebecca & Ronnie Wagoner of Athens, Texas and Deborah & Gary Murphy of Bailey, Texas; her daughters-in-law: Rita Hill of Ferris, Texas and Bonnie Hill of Petal, Mississippi; her sisters: Peggy Ethridge and Caroline Wilder, both of Birmingham, Alabama; her 15 grandchildren: Danna Hill, Robert Hill, Jr., Samuel Hill, Terri Morton, Sherie Poore, Michael Hill, Melissa Singer, Elaina Collins, Edna Walker, Terri Englert, Janie Foster, Randy Hill, Sumer Jarvis, Chandra Hill and Sasha Hill. She is also survived by her 38 great-grandchildren and her 30 great-great-grandchildren.
In addition to her parents and her husband, Janie was preceded in death by three sons, Robert L. Hill, Sr., Tommy Hill and George Hill, a daughter, Sonyia Hill, and a great-great-grandson, Eli Poore.

Turrentine-Jackson-Morrow Funeral Home of Leonard is in charge of arrangements. An online registry may be signed at www.tjmfuneral.com.