Obituaries
James L. Milam
Jun 13, 2019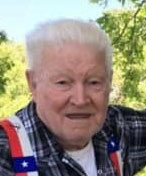 Trenton, Texas -- A funeral service for Mr. James L. Milam, 81, of Trenton is scheduled for 11:00 a.m. Saturday, June 15, 2019 at the First Baptist Church of Trenton. Brother Larry Ashley will officiate. Burial will be in the Indian Creek Cemetery in the Nobility Community.

James "Papa/Daddy/Jim" Milam was born April 14, 1938 in Rice, Texas. His parents were James Thomas and Mary Agnes Davis Milam. James left this life to be at home with the Lord Jesus Christ, his Savior, on Tuesday morning June 11, 2019. His passing was peaceful being surrounded and held by his daughters and their families at Baylor Scott and White Hospital in McKinney, Texas.

Jim lived a long, full life beginning with marrying his bride of 51 years, Patsy Garrett in San Diego, California and serving his country in the US Navy from 1955 through 1964. Later he served his communities in law enforcement and finally retired from Southland Corporation with a long career in managing multiple family franchised Seven-Eleven convenience stores.

Jim always looked forward to fishing with family and friends since he was a young child. It carried him through life with not a weekend going by that he wasn't trying to get on a lake somewhere to catch some crappie, sand bass, catfish, or whatever would bite his hook.

Jim was taught at a young age to be an entrepreneur. He always had a spare car, being that he had three daughters in need of something to drive. He became somewhat of an expert in dealing with just about anyone, from used cars, to his ice cream truck business, to lots and lots of western/farm trinkets, saddles, yard-art, etc. including later in life his Burger Barn business in Trenton, Texas. Jim was loved by everyone and will truly be missed in this life, on this earth. However, to those who believe in Jesus Christ as their Lord and Savior, it's just "see you later, Jim."

James is survived by his daughter: Debbie Roberts of McKinney; his daughters and sons-in-law: Robin & Kirk Smith of Trenton and Misty and David Bomsburger of Pottsboro; his sister and brother-in-law: Joyce and Richard Moiola of Dallas; his sister: Bobbie Milam of Austin; his grandchildren: James Milam, Shawn Griggs, Casey Griggs, Ashley Burk, A.J. Bomsburger, Rachel Preston, Dakota Bomsburger, Monica Mackey, Sarah Smith, Junior Smith, Bradon Roberts and Eli Bomsburger. His great grandchildren: Jaxon Milam, Kloe Bomsburger, Skylar Milam, Lainey Griggs, Noah Preston, Melody Preston, Easton Bomsburger and Aidyn Bomsburger.

In addition to his parents and his wife, James was preceded in death by a daughter, Kimberly Rene' Milam, a sister, Frances Gilmore, and his father and mother-in-law, Jack and Tommie Garrett.

Turrentine-Jackson-Morrow Funeral Home of Leonard is in charge of arrangements. An online register may be signed at www.tjmfuneral.com.