Lifestyles
Talon K. Wilkerson - 2nd Lt. U.S. Marine Corps
Jun 24, 2019
Quantico, Virginia -- Talon Wilkerson has been commissioned as a 2nd Lt. after completing a rigorous 10 weeks at Office Candidate School, Quantico, Virginia, March 2019. She was selected to be one of 62 women from the country to attend the training, of which, 28 graduated. This was the first time in 18 years women were allowed to train during a winter camp in Quantico.
Lt. Wilkerson moves on to six months of leadership training at The Basic School, Barrett Base, Quantico, before moving on to flight school in Pensacola, Florida, this fall.
Lt. Wilkerson graduated from Sam Rayburn High School in 2013 and received a bachelor's degree from SOSU in 2018, where she received her private and commercial flight licenses.
Talon is the daughter of the very proud parents, Keith and Kathie Whiteside, of Ravenna, Texas.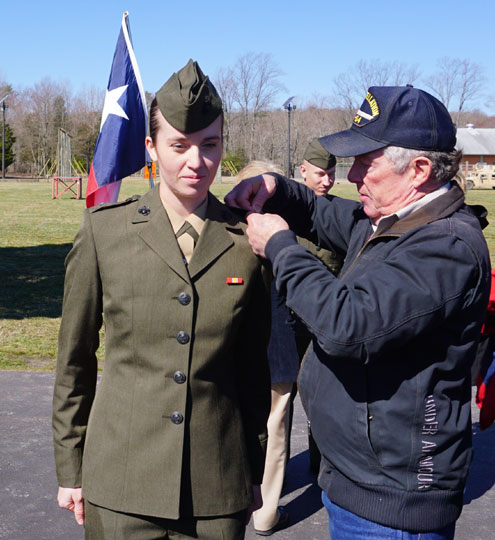 2nd Lt. Talon Wilkerson is pinned by her grandfather, Phil Haley.