Lifestyles
Grandpa's Neighbors at Powder Creek Pavilion this Saturday
Jun 29, 2019
Bonham, Texas -- Powder Creek Pavilion in Bonham, Texas welcomes Grandpa's Neighbors for an evening of gospel bluegrass this Saturday, June 29, beginning at 8:00 p.m.
"We sing in a style that is a pleasant mix of country, bluegrass and traditional gospel," the band says. "We have many, many songs, some original to our group. We never repeat a show or service exactly, for we set each line-up of songs according to Godís leading for each specific audience or congregation. We are an all-girl band with all-girl vocals but we never go to any performance without Dad or at least one of our Grandpas. They love us and take care of us very well and we appreciate the covering of protection God has placed us under."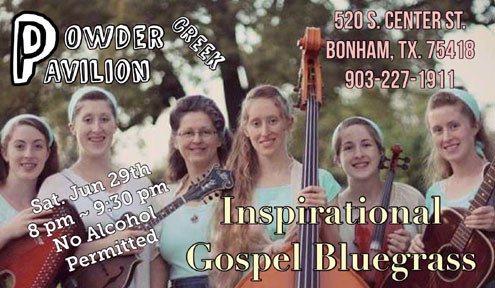 Powder Creek Pavilion is located at 520 S. Center St., Bonham, Texas 75418.
For more information, please visit www.powdercreekpavilion.com