Local News
Kiwanis Club of Bonham, City of Bonham to present July 4th Fireworks Show
Jul 4, 2019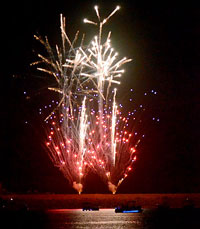 Bonham, Texas -- Lake Bonham will be the center of activities Thursday, July 4th as residents and visitors flock to the area to enjoy the annual Fireworks Show, presented by the Kiwanis Club of Bonham, in cooperation with the City of Bonham.

This year's pyrotechnic extravaganza gets underway at dusk on Thursday.

This popular annual event combines family fun at Lake Bonham with an awe-inspiring fireworks display.

The Kiwanis Club has been putting on this show since 1977.