Lifestyles
Morgan Hopson Wins 2019 Texas State Champion Auctioneer
Jun 29, 2019
*See Live Contest Video on www.texasuactioneers.org
Waco, Texas -- The Texas Auctioneer Association held their 62nd Annual Convention and Championship Contest June 6-8 in Waco, Texas. During the event, the state championship for all categories is held as well as annual education and business training.
The state championship format was challenging with over 50 competitors in all categories Each contestant must be a licensed auctioneer in Texas, be a primary resident of Texas and a current member of the Texas Auctioneer Association. For state championship, contestants must compete and move through three rounds of competition. The top 5 finalists each receive a custom Finalist Buckle. The top 5 finalists compete and are judged on selling 3 identical items each. Six judges from the industry then score and select the final State Champion. Throughout the next year, the champion serves as ambassador and supporter of the profession and will end the year by leading a special auction with the children and their families at Texas Scottish Rite Childrens Hospital in Dallas.
The 2019 Texas State Champion Auctioneer is Morgan Hopson of Bonham, Texas. Congratulations Morgan!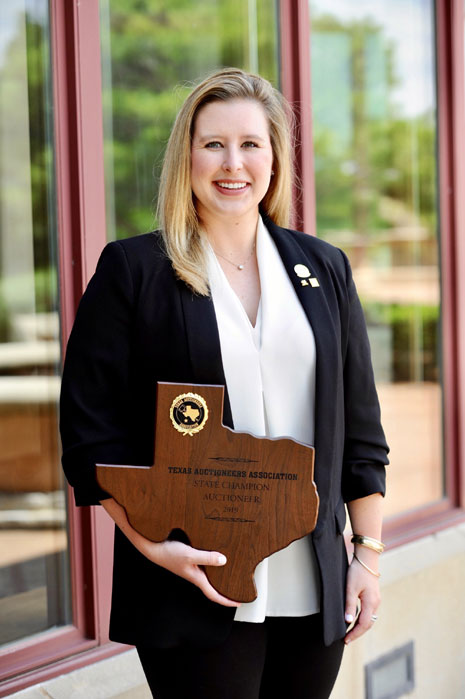 Morgan Hopson
Morgan is CAI & UCMA certified and is a native of Bonham, Texas and a graduate of Texas Christian University. She is a licensed auctioneer, a graduate of Texas Auction Academy and the Professional Ringman's Institute. Morgan is also a licensed real estate associate in Texas and Oklahoma and has experience with many types of auctions. Her specialties include farm & ranch, recreational, and luxury real estate as well as consulting with non-profits and associations to help them achieve their fundraising goals.
Morgan holds the prestigious Certified Auctioneers Institute (CAI) from the National Auctioneers Association's Education Institute. In 2015, Morgan was awarded with the Pat Massart Award at the Certified Auctioneers Institute in Bloomington, IA. The Pat Massart award is given to the student with the best auction proposal submitted in year two of the three-year designation program.
Morgan has also been awarded with the United Country Master Auctioneer designation and most recently received 1st runner up in the International Auctioneers Championship. Morgan is currently serving as a state Ambassador for the National Auctioneers Association. She is a member of the Texas Auctioneers Association.
Outside of the real estate auction industry, Morgan is an active member of the Junior League and is currently serving as the Co-Chair of the Speaker in the City Committee. Having a strong and professional stage presence is something that Morgan is accustomed to, having performed as a concert violinist and fiddler at many prestigious events nationwide. She is honored to be the Texas Champion State Auctioneer for 2019 and looks forward to representing the state and bringing high-energy and charisma to any auction and will help surpass your goals as an auctioneer and marketing partner.
The 2019 winners of the other categories include: Monica Higdon – Ringman Champion Landon Waddle – Rookie Champion Scott Droddy - Senior Champion Wes Pool & Trey Galloway – Team Champions