Local News
Amanda Wright named City of Bonham Employee of the Month for June
Jul 10, 2019
Bonham, Texas -- Amanda Wright is the latest exemplary employee to be honored by the City of Bonham for her dedicated service to residents and cheerful disposition with co-workers. She was recognized as City of Bonham Employee of the Month for June 2019 during a regular meeting of Bonham City Council held Monday, July 8, 2019.
Amanda is the Administrative Assistant for the Public Works Department and has been employed with the City of Bonham since October 2003. Her willingness to help citizens and other departments within the city garnered this nomination. She is always smiling, happy and very polite. Amanda's contributions to improve Bonham include refurbishing the terminal at Jones Field.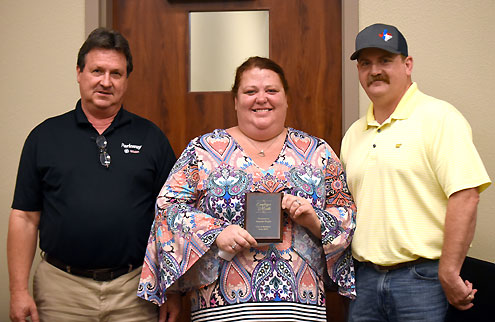 (L-R) Bonham City Councilmember Kevin Hayes, Amanda Wright and Brad Nichols, Human Resources Director for the City of Bonham.
Each Employee of the Month receives four hours of paid time off and a $50 gift certificate. At the end of the year, the Employee of the Year will receive eight hours of paid time off and a $250 gift certificate. The awards are part of an initiative to provide more incentives for city employees.
The regular meeting of Bonham City Council opened with an invocation by Mark Posey, Code Enforcement and Building Inspector for the City of Bonham.
Councilmembers approved minutes from a regular meeting June 10 and a special meeting July 2.
Dave Struchtemeyer, CPA, Director of Finance for the City of Bonham, presented the June 2019 financial report to Bonham City Council.
"This month we incurred $630,000 worth of cost upgrading the SBR units at the Wastewater Treatment Plant," Mr. Struchtemeyer noted. "This work is part of the agreed order that we have with Texas Commission on Environmental Quality. This was funded with the Texas Water Development Board funds that we secured last year. We are just under 50% of the construction being completed. Project to date we have spent just under $1.8 million of the over $2.5 million construction project."
"Today we went live with the utility billing system and we are now completely switched over to the new software system," Struchtemeyer advised councilmembers. "Everyone did an excellent job in getting us cut over to the new system. We will go through some post implementation adjustments between now and the end of the year but the implementation was a success. Tonight we have submitted a budget calendar and schedule, we are currently working with departments heads on their budget proposals and we expect to meet all deadlines listed on the calendar."
Bonham City Council approved the June 2019 financial report.
In the segment of the meeting reserved for an opportunity for citizens to speak, Emily Porter, Director of Tourism, Bonham Visitor Information Center, told about UT Austin's Briscoe Center for American History's contribution to this year's Quilt Hop coming up July 26-27. The Brisco Center will exhibit extraordinary quilts from its Astronomical Quilts, Block Challenge Collection. The quilts were created from blocks made in response to a challenge issued by the International Quilt Festival in 2013 and inspired by a quilt block hand-sewn by NASA astronaut Karen Nyberg while serving aboard the International Space Station in 2013.
Emily Porter
The Astronomical Quilts, Block Challenge Collection will be on display at the Creative Art Center, the Sam Rayburn Library, and the Sam Rayburn House. Quilts from other quilters will be on display at the Bonham Visitor Center, Fannin County Museum of History, Historical Commission, Bonham Public Library, Bonham Senior Center, and the Episcopal of Honey Grove.
In all, 10 locations will display more than 300 quilts during Quilt Hop.
Robert Lee addressed councilmembers to state that Texas Commission on Environmental Quality had issued a violation to a sand plant for a breach in the containment system that increased the sediment washing down Wolf Creek and into Lake Bonham.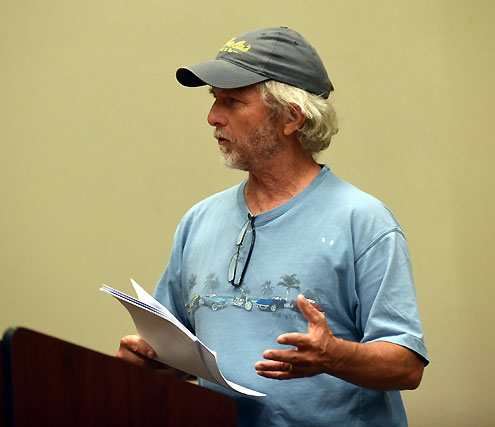 Robert Lee
Mr. Lee pointed out that, even though the sand plant will have to bring its containment system up to code, excess sand that has already washed into Wolf Creek will continue to impact Lake Bonham.
Daisy Bush, operator of Java Joint at Lake Bonham until a flood in September 2018 devastated the business, thanked councilmembers for the opportunity to operate the concession.
"We made friends, made improvements and we hope we are leaving Lake Bonham better than we found it," Ms. Bush remarked. "This has been a wonderful experience for us."
The next order of business was to appoint or reappoint individuals to the Airport Advisory Board, Planning and Zoning Commission and Texoma Community Center Board of Trustees.
Brian Jones and Dennis Whitlock were reappointed for two-year terms on the Airport Advisory Board and Clint Hemby was appointed to a two-year term. Jones, Whitlock and Hemby all submitted letters of interest.
Michael Todd, Edith Fuller and Price Bradshaw were reappointed to the Planning and Zoning Commission, David Kincade was appointed to the P&Z Commission and David Odom was selected to fill the alternate seat.
Mary-k Ashley Wilson, Bonham's representative on the Texoma Community Center Board of Trustees, asked to be replaced on the board by Judge John Skotnik.
"Thank you for letting me represent the City of Bonham for these past years," Ms. Wilson stated in her letter to councilmembers. "You have done me a great honor."
Bonham City Council appointed Judge Skotnik to the Texoma Community Center Board of Trustees.
Bonham City Council approved a resolution supporting the city's application to the Texas Department of Transportation Safe Routes to School Program. Bonham City Council had approved an application to this program in March 2019. The Safe Routes to School Program promotes the safety of children -- kindergarten through 8th grade -- as they walk to school and then return home. The program is 100% funded by the state.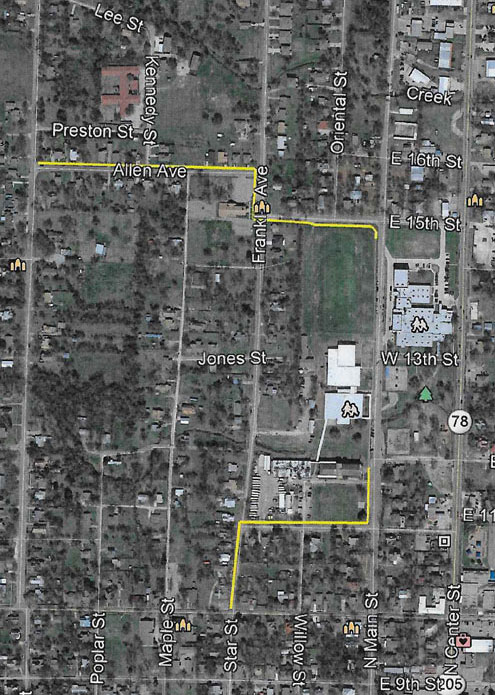 If the application by the City of Bonham is given a favorable ruling by the state and scores in the upper percentile to qualify for funding, this $328,000 sidewalk project will enhance the safety of students traveling to and from I.W. Evans Intermediate School and L.H. Rather Junior High.