Front Page
Fannin County Commissioners Court: Courthouse restoration bids increase
Jul 11, 2019
Fannin County, Texas – The regular meeting of Fannin County Commissioners Court began with the call to order and established a quorum with all members present.
Agenda item two was the invocation, which was delivered by David Brackett from the First Baptist Church in Randolph.
Agenda item three was the recitation of pledges which were led by Jerry Huffman, Emergency Management Coordinator, Fannin County, Texas. Mr. Huffman also informed court that on July 9, 1948, there was another groundbreaking in Fannin County. It was for the Sam Rayburn Memorial Veterans Center.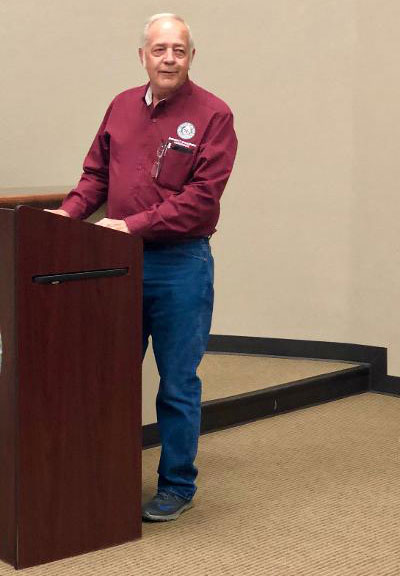 Jerry Huffman
Agenda item number four was public forum, in which no one spoke.
Item number five was for introductions; Jaime Baker was in court. Happy birthday, Jaime.
Agenda item number six approved an additional easement on County Road 3115. This is at the Phoenix solar farm to allow larger equipment into the facility.
Agenda item seven was for an executive session, regarding courthouse contracts and proposals.
Item number eight reported on courthouse contracts and proposals. Turner received bids approximately two weeks ago, and estimates have changed dramatically. They anticipate rebidding some segments, and contacting the Texas Historical Commission about costs.
Agenda item number nine approved the Fannin County Auditor's monthly report for June 2019.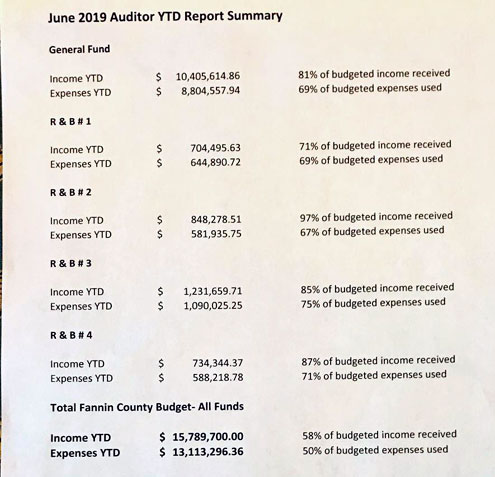 Item ten on the agenda approved the payment of bills. This week's bills totaled $266,021.61. Included in this week's bills are costs for prisoner housing, oil and gas, monthly building leases and payment to the fire department.
Agenda item eleven on the agenda was comments by the County Commissioners and County Judge.
· Commissioner Whitlock
o Had no comments.
· Commissioner Self
o Thanked and congratulated Gail Young and the Fannin County Relay for Life.
· Commissioner Magness
o Had no comments.
· Commissioner Lackey
o Wanted to remind Fannin County residents that there will be 9 road closures dealing with Bois d'Arc Lake. They will occur in the next two weeks.
· County Judge Moore
o Said that two weeks ago he told Lisa, on the way to work, I thought of the passage in Luke. Cast your nets to the other side of the boat. He is putting his faith and trust in God. We will make this work. They will release more information on the Restoration of the Courthouse in the next couple of weeks.
Agenda item twelve adjourned the meeting.