Local News
Harmony House Concerts welcomes back Ellis Paul
Aug 20, 2019
Don't miss this one!! On Friday evening, August 23, 2019, 7:30-9:30 p.m., Harmony House Concerts will host Ellis Paul in concert in our intimate vintage home setting. Speaking personally, the hosts are proud to bring Ellis Paul back for guests to enjoy. "He writes incredible songs and has an incredible voice."
Ellis will play two 45-minute sets, using both acoustic guitar and piano. There will be a 30-minute intermission so guests can mingle, graze on snacks, refill coffee/tea/punch cups, purchase CDs and talk with Ellis. [To learn more about this phenomenal musician, read his short bio below, then visit his website, www.ellispaul.com, click on the 'About' option and find his long bio, songs, videos, and more.]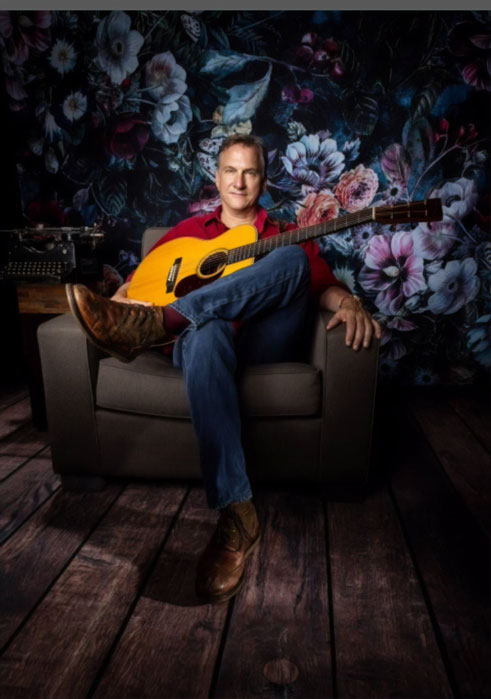 Reservations are $20 per person, and all proceeds go to the artist. Call 903-593-2661 for reservations and leave the number of seats requested and your contact information (preferably an e-mail address). The artist's agent requests prepayment for any reservations. To prepay, please send a check, payable to Ellis Paul to Faye Wedell; P.O. Box 812; Bonham, TX 75418, to be received by August 16th, if possible. Refunds will not be made for no-shows. Harmony House can accommodate about 50 guests in our living/dining room area. In the past, Ellis Paul's shows have been sold out, but a waiting list will be kept for legitimate cancellations. If you do not choose to prepay, you can pay at the door with cash or check. Again, if you make a reservation and do not show up, you will be contacted for payment per the contract with Ellis Paul's agent.
Harmony House is located on Wildscape Acres, which is about 10 miles North of Bonham, TX and 65 miles NE of the Dallas metroplex. If you have never attended one of our house concerts these past 15 years, please indicate that you need directions; they will be sent to you in a Word.docx. Our venue is known for its friendliness and sense of community, as we welcome you and yours into our reclaimed 'little house on the prairie' surrounded by woodlands. Visit our website, www.WildscapeAcres.com, for more info about us. You can also visit/join Harmony House Concerts Group on Facebook. We, Faye and Scott, will provide bottomless cups of coffee, tea, tea punches, and good 'ole well water, as well as cheese/crackers and some other munchies. Guests are requested to bring a finger food snack to share with others. Tables will be provided throughout the house, so you can graze before, at intermission, or after the show. A song circle will be held after the show for those of you who opt to stay and jam — with your own instruments, your own songs or old favorites for sing-alongs, or just to listen to others. You don't have to be a pro to join in and enjoy a song circle.
About Ellis Paul:
A troubadour, a singer/songwriter, a folky, and a storyteller — all are fair labels for this artist, but they do not quite suffice. However, the tattoo of Woody Guthrie worn proudly on his arm is a good starting place from which to grasp Ellis Paul, for it is from the Woody Guthrie tradition that he hails, and Maine as well. Joni Mitchell, Bob Dylan, and James Taylor are also listed among his influences, and their spirits seem to occasionally grace his work. With an acoustic guitar in hand, he weaves intimate, provocative, and romantic tales of lives that were obviously witnessed by a most-talented voyeur.
Once based in Massachusetts, Paul has been called the quintessential Boston songwriter more than a few times and has garnered the recognition and awards to back up that claim, including a shelf full of Boston Music Awards. The mayor of Boston proclaimed an 'Ellis Paul Day' while he was living there. Since coming onto the scene in 1993 with his independent debut, Say Something, Paul hasn't slowed or weakened as a performer or a writer. Spending two-thirds of most years on the road has helped him perfect both crafts, with a lot of practice on-stage and a lot of people whose stories he retells in song. In fact, his 1994 album, Stories, proved enchanting enough to secure him a deal with Rounder Records and a national following of dedicated fans.
Over the years and albums, his songs have gotten more personal. He purposely turned the looking glass onto his own life for 1998's aptly titled Translucent Soul, publicly working through the pain of his divorce. Following hot on the heels of 1999's double-CD Live, the new millennium saw Paul's song "The World Ain't Slowing Down" featured in Me, Myself and Irene, starring Jim Carrey.
His eighth studio release, a collection of previously unreleased tracks called Sweet Mistakes, arrived in 2001, followed by Speed of Trees (2002), a two-disc career retrospective (2006), a children's record inspired by the birth of his second daughter called The Dragonfly Races (2008), and, finally, an all-new studio album, The Day After Everything Changed, in January 2010. In 2012, Paul released his second children's record, The Hero in You, which featured songs about Benjamin Franklin, Georgia O' Keefe, Rosa Parks, and Thomas Edison, and other notable Americans that Paul deemed heroic.
Chasing Beauty was released in 2014 and his 20th studio and latest album, The Storyteller's Suitcase, in 2019.
Paul currently resides in Charlottesville, VA, but he still calls his small island town in Maine 'home'.
Here are some reflections on Ellis by Lee Zimmerman, writer/reviewer for American Songwriter, No Depression, New Times, Country Standard Time, Blurt, Relix, and M Music and Musicians:
Not surprisingly, Paul has been consistently heralded by others as well. One writer noted, ". . . that it reminds you how much we need storytellers back in pop music — storytellers with empathy, fine eyes and an understanding that, even though we live in a soulless, indifferent world, our music doesn't have to reflect our culture." Another reviewer was even more pointed. "Ellis Paul is one of the best singer/songwriters of his generation," she commented. "And, for many of us, he is the face of contemporary folk music. Few are as smart, as literate, as poetic as Paul. I cannot think of another artist on the acoustic music scene better loved by fans or more respected by his contemporaries."

Indeed, he is all that and, in a very real sense, even more. He's an observer, a philosopher, and an astute storyteller who shares with his listeners the life lessons he's learned and, in turn, life lessons they ought to heed as well. By affirming and defining who he is, Ellis Paul affirms and uncovers the essence of us all.