Lifestyles
UTOPiAfest Eleven in Burnet TX, Nov. 14-16
Nov 11, 2019
Burnet, Texas -- For nine years on a remote, rural family ranch in Utopia, TX, UTOPiAfest evolved into a festival niche of its own. The experience features two non-overlapping stages showcasing multiple genres, in a friendly, harmonious family and partier friendly environment, with a distinct lack of fencing, overwhelming crowds, overbearing security, overt advertising, and nickel-and-diming that plague most music festivals. Though music is the main attraction, the beautiful natural setting has been the main headliner, with activities ranging from disc golf, mountain biking, hiking, workshops, and art installations.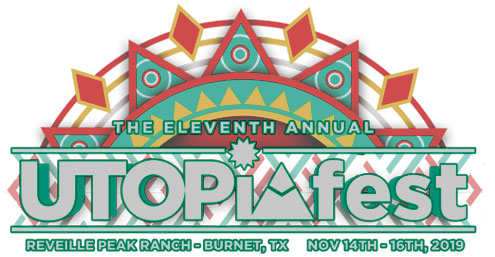 In 2018, after the decision was made to relocate to a new venue that would allow for further organic growth, and closer proximity to the central Texas participants who constitute the majority of attendees, UTOPiAfest found a perfect fit with the renowned mountain biking destination of Reveille Peak Ranch in Burnet, TX.
UTOPiAfest has now revealed new details about this year's Eleventh Annual gathering. The announcement promises a renewed commitment to the family and community focused, quality over quantity, holistic experience UTOPiA has cultivated over the last decade.
Weekend passes will include free car camping and parking for the weekend, and with an unprecedented policy, attendees will be able to bring their own beer, wine, and spirits, along with food, anywhere on the grounds, as well as purchase Hill Country craft beer and wine from partners Real Ale, Zilker Brewing, and William Chris Wines.
Another UTOPiAn trademark is the sleeping friendly environment, in which the only official late night programming includes a silent disco (several channels of music transmitted through headphones), and Goodtimes Grove, a 'listening room' style concert in which instruments unplugged and complete silence is enforced for the audience of hundreds. Free recordings are archived here.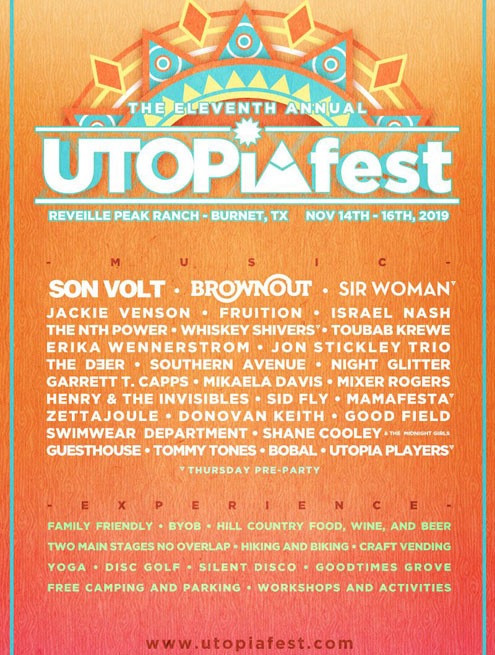 Announced performing artists, experiential elements, and participating brand partners include:

-Music-
Son Volt - Brownout - Sir Woman (Kelsey Wilson from Wild Child) - Jackie Venson - Fruition - Israel Nash - The Nth Power - Erika Wennerstrom - Toubab Krewe Jon Stickley Trio - The Deer - Southern Avenue - Garrett T. Capps - Night Glitter - Mikaela Davis - Mixer Rogers - Zettajoule - Henry & The Invisibles - Mamafesta - Donovan Keith - Good Field - Swimwear Department -Shane Cooley & The Midnight Girls - guesthouse - Sid Fly - Bobal - Tommy Tones - UTOPiA Players
-Experience -
Family Friendly - BYOB - Hill Country Food, Wine, and Beer - Two Main Stages No Overlap - Hiking and Biking - Craft Vending - Yoga - Disc Golf - Silent Disco - Goodtimes Grove -Free Camping and Parking - Workshops and Activities
-Partners-
Real Ale - REI - Black Swan Yoga - Black Fret - Zilker Brewing Co. - William Chris Wines - Zoi Medicinals - Texas Music Office - Radio Coffee & Beer - Austin Massage Company - CLIF - Cam Solar - American Dream RV - To the Moon Pink & Silver Fashion - Green Fern Events - Team Goodtimes - Festicket - Your Silent Disco - Band Aid School of Music - HAAM - Hill Country Conservancy

Weekend Passes and upgrades are available now at www.utopiafest.com.
The UTOPiAfest experience has always proved notoriously difficult to convey in words, but you are encouraged to attend and attempt.