Local News
Fannin County Commissioners Court: Contracts for masonry and roofing awarded for courthouse restoration project
Aug 8, 2019
Fannin County, Texas – The regular meeting of Fannin County Commissioner's Court began with the call to order and established a quorum with all members present.
Agenda item two was the invocation, which was delivered by Cindy Baker Burnett from Main Street Presbyterian Church in Honey Grove.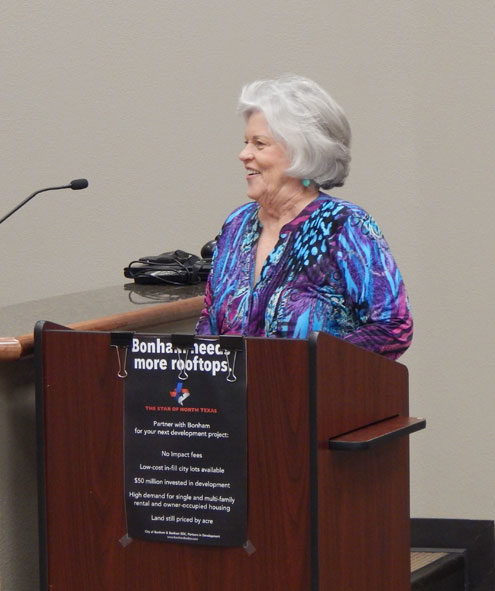 Cindy Baker Burnett - photo by Jarrett Tucker
Agenda item three was the Pledges of Allegiance which were presented by Fannin County Judge Randy Moore.
Agenda item number four was for introductions; Judge Moore recognized several individuals from Texoma Council of Governments and Texas Association of Counties.
Item number five was public forum and no one spoke. Judge Moore reminded court observers that public forum is for subjects, not to call out individuals.
Agenda item number six updated the Bois d'Arc Lake project. Steve Long from North Texas Municipal Water District stated that there would be 45 bridge beams delivered in the next three days to the FM 897 site.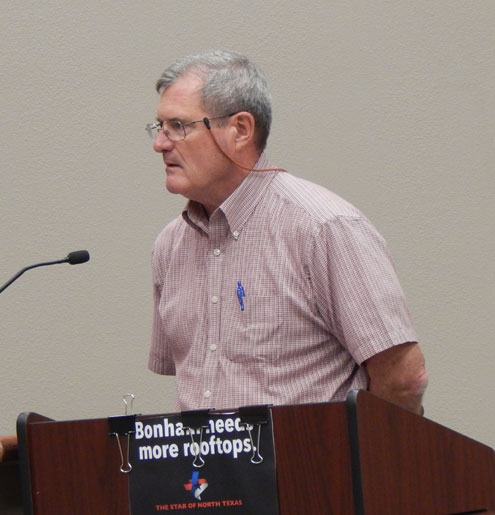 Steve Long - photo by Jarrett Tucker
Mr. Long also cautioned Fannin County residents to be aware of the many road and bridge projects going on.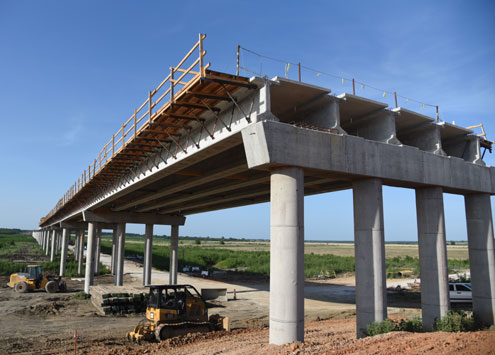 Bridge over Bois d'Arc Lake on FM 897
Agenda item seven authorized the Fannin County Judge to sign an Interlocal Agreement for E9-1-1 Public Safety Answering Point Services with TCOG. One change mentioned was to make sure a concise message was sent out to all. Commissioners asked also if road closings could be included on maps, but there didn't seem to be a good solution for that issue.
Item number eight approved the collection of optional fees (Chapter 502.401 & 502.403 of Transportation Code) for Calendar Year 2020 which is $10 per registration. This is for road and bridge funds. The optional fees form will be returned to Texas Department of Motor Vehicles.
Agenda item number nine was tabled so more information about the implementation of a County Specific Incentive Program (CSI) for the County Wellness Program Plan Year 2020 with TAC Healthy County could be studied.
Agenda item ten approved a non-exclusive distribution agreement between North Texas Tollway Authority and Fannin County Tax Assessor-Collector to sell Toll Tags through the Tax Assessor-Collector's Office. This will pay the county $5 per new account opened. Gail Young stated that this would be just another service provided for county residents.
Agenda item eleven approved the solicitation of formal bid for culverts for all precincts for September, 2019 through August, 2020.
Item twelve on the agenda allowed a one-time severance of two acres from a 10-acre tract on County Road 5030. This is located south of Highway 78 and County Road 5030 in Leonard.
Agenda item thirteen approved the Short Plat for Long Prairie Estates located on CR 4145. There will be no new roads or heavy dirt work performed with the project. This is located North of Highway 11 and West of Highway 121.
Item fourteen on the agenda approved the Interlocal Agreement between NTMWD and Fannin County regarding maintenance of roads. This is to maintain haul roads for the pipeline.
Agenda item fifteen approved a court order to accept funding for maintenance of County Roads from NTMWD-Garney for Raw Water Pipeline. NTMWD will pay the county $500,000 to help maintain the haul roads. This is anticipated to be a two-year project with an annual negotiation of costs.
Item sixteen awarded contracts for masonry and roofing on the Courthouse Restoration Project after much discussion from both the county judge, county commissioners, along with five individuals who all spoke out against awarding contracts. All four commissioners voted to award these contracts saying they were both below anticipated costs; Judge Moore voted in dissent.
Item seventeen approved the proposed tax rate of 0.589000 per $100 and set two public hearing dates regarding the 2019-2020 proposed tax rate for August 27, 2019 at 8:45 a.m. and September 13, 2019 at 9:00 a.m. The hearings will be held at Bonham City Hall.
Agenda item eighteen approved budget amendments from Fannin County Auditor's Office for fiscal year 2018-2019.
Item nineteen approved payment of this week's bills. Bills this week totaled $209,771, with $117,686.00 going to Frontier Waterproofing for removing the mastic from the courthouse.
Item twenty on the agenda was comments by the County Commissioners and County Judge.
· Commissioner Whitlock had no comments.
· Commissioner Self said that sometimes we don't see eye to eye, but put your confidence in us. We are not trying to tie the county down. Have faith in our decisions.
· Commissioner Magness wants us to work together on this project.
· Commissioner Lackey
o Has been to lots of meetings, listens and has learned a lot. Our objective is make the best decisions for the county.
o Highway 82 east will have regular closings, be careful.
· County Judge Moore
o On August 20 at 8:30 a.m. there will be a public hearing on the proposed budget.
o On August 8 and August 9 there will be budget workshops.
o The main road to Lake Fannin is being worked on. Thanks to N-Tex Sand and Gravel for materials and ASCO of Sherman for the use of CASE loader.
Agenda item twenty-one adjourned the meeting.
If you have any questions or comments for your County Commissioners or County Judge their contact information can be found at the web addresses below.
http://www.co.fannin.tx.us/page/fannin.County.Judge