Lifestyles
Kool Lunches: Another successful summer
Sep 6, 2019
Fannin County, Texas -- According to Bonham ISD, at least 71% of Bonham students are eligible for free or reduced lunches in the 2019 school year. Students in this bracket might go without food or have little to eat during the summer months. Kool Lunches was established in 1998 to fill the most basic need of feeding the children of Fannin County. Ray and Ruth Havens got the idea from the Fannin Community Foundation. With tons of energy and support from volunteers, local businesses, and churches, a very successful program was started.
As they have done for years, volunteers work an assembly line making sandwiches. They set up a table with brown lunch sacks and add chips, fruit cups and dessert. This year they were also able to include fresh fruit one day a week and a juice box. Volunteers divide the lunches amongst 5 distribution sites then set out to deliver. Powder Creek Park is the largest distribution site, and an ideal place for kids to enjoy lunch. (We can't wait for next year and the Splash Pad!)
After 4 years of organizing and giving a great deal of time and energy to the program, Megan and Ryce Massey retired. This year Jodi Hunt and Brandy Nichols led the program. They did an amazing job, but couldn't have done it without so many wonderful volunteers. First Presbyterian Church donated the use of their kitchen and First United Methodist allowed the use of their building during their Bible School.
The Kool Lunches Program gives special thanks to these churches and organizations for their splendid teamwork: First Presbyterian Church, 7th and Main Baptist Church, Bethlehem Baptist Church - The House of Bread, Northside Church of Christ, Church of Latter Day Saints, First Baptist Church, Mosaic Assemblies of God Church, Bonham First United Methodist Church, and the Fannin County Sheriff's Department.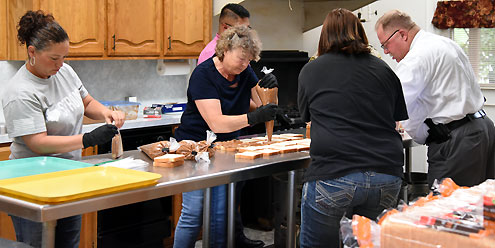 Volunteers from Fannin County Sheriff's Office make lunches in the kitchen at First United Methodist Church in Bonham.
It was a short summer due to Bonham extending school by an extra couple of weeks, but next year they plan on making lunches for an extra 2 weeks. They hope that churches and organizations that helped in the past will again volunteer.
Each lunch cost just under $1 to make. Brookshire's Grocery did an awesome service helping with shopping, loading cars, and giving the best deals in town. Their support is appreciated every year.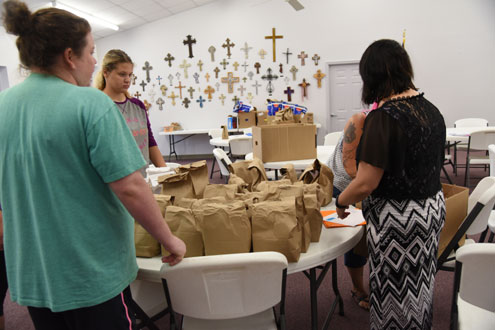 At First Presbyterian Church in Bonham, volunteers from Mosaic Assembly of God prepare meals for delivery.
Kool Lunches must depend on the community's generosity to keep going. This year they are participating in the North Texas Giving Day on September 19th. It's an easy way to donate online. Their goal is to raise $5,000, which would pay for the program through half of summer. People are welcome to donate in any amount—even $1 or whatever is affordable. Kool Lunches appreciates all donations and so do the kids!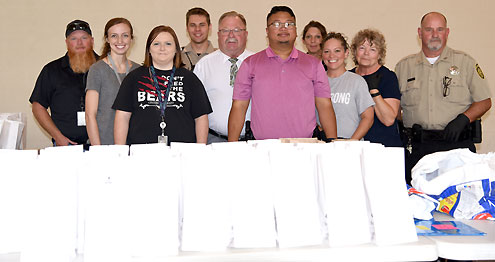 Volunteers from Fannin County Sheriff's Office