Local News
McKinney City Manager proposes to lower city property tax rate
Aug 16, 2019
The budget allows for a one-cent reduction
in the city's property tax rate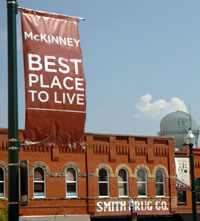 McKinney, Texas (Aug. 14, 2019) – The McKinney City Manager proposed a $534 million total budget for Fiscal Year 2020 that would result in a one-cent reduction in the city's property tax rate. The budget, which includes $158 million in the general fund, would lower the city's property tax rate from 0.525170 to 0.515600. The proposed rate means property owners would pay $0.515600 for every $100 of assessed property value. The rate reduction results in about $2.4 million to remain with the taxpayers.

McKinney residents and stakeholders may view the city's presentation of the proposed budget at www.McKinneyTexas.org/budget and are invited to provide feedback before the final budget is scheduled for adoption on Sept. 17. Fiscal Year 2020 runs Oct.1 – Sept. 30, 2020.

Public hearings will take place at 6 p.m. Aug. 20, Sept. 3, and Sept. 17 at City Hall, 222 N. Tennessee St.

"This budget combines the efforts and input from citizens, City Council, and city staff to plan for the future while maintaining a high level of service our businesses and residents expect," City Manager Paul Grimes said.

For additional information on the city's budget, visit www.McKinneyTexas.org/budget.