Lifestyles
'Fall into Vegetable Gardening' program in Bonham Aug. 23
Aug 23, 2019
Fannin County, Texas -- The Texas A&M AgriLife Extension Service and Fannin County Master Gardeners will conduct "Fall into Vegetable Gardening" on Friday, August 23, 2019 from 9:00 a.m. to 12:00 p.m. at the AgriLife Extension office at 2505 N Center Street in Bonham, Texas.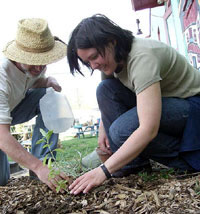 The educational program will provide attendees with the information they need to have a successful experience growing delicious, and nutritious vegetables in their own gardens. Topics will include information on site selection and preparation, raised beds and alternative garden ideas, compost, the benefits of mulching, plant selection, pest and disease management, and garden maintenance. Attendees will take home printed information to get their gardens off to a great start. The cost to attend this program is $10.00. The program is limited to the first 60 attendees.

Please RSVP to the Extension Office by 8/22/2019 at 903-583-7453 or reserve your seat in person by coming by the Extension Office.