Sports
Leonard Lady Tigers win challengers bracket at Denison Tournament
Aug 18, 2019
Denison, Texas -- Leonard Lady Tigers competed in the challengers bracket of the Denison Tournament. The Lady Tigers faced Whitesboro in the opening match.
Leonard won the match with scores of 25-23, 23-25, 25-19.
Mikayla Farber contributed 3 aces, 10 kills, and 27 digs.
Abby Wilson added 13 kills and 26 digs.
Taylor Reed led with 20 assists.
In the championship match, the Lady Tigers faced Valley View.
The Lady Tigers won this match with scores of 25-20, 25-14.
Abby Wilson had 2 aces, 9 kills, 5 blocks, and 9 digs.
Mikayla Farber added 6 kills and 13 digs.
Paiton Sudderth had 8 digs.
Abby Cavender and Taylor Reed added 12 and 10 assists respectively.
The Lady Tigers face Lone Oak at LHS Gym on Tuesday. Play begins at 5:00 p.m.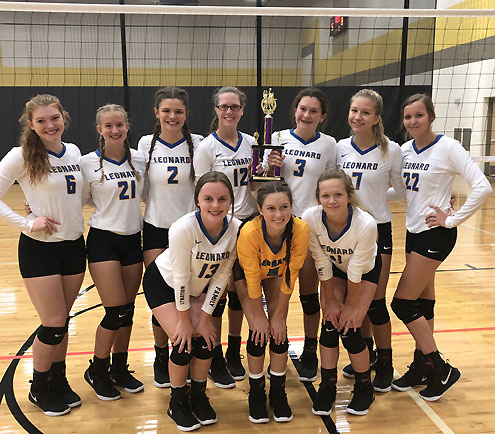 Leonard Lady Tigers