Local News
Bonham Police Department edges Bonham Fire Department in Battle of the Badge Blood Drive
Aug 22, 2019
Bonham, Texas -- It was the Bonham Police Department winning this year's Battle of the Badge Blood Drive with 46 votes, giving BPD a narrow victory over Bonham Fire Department, which garnered 44 votes.
This is the fifteenth year Texoma Regional Blood Center has held the Battle of the Badge Blood Drive, with good-natured competition between police and fire departments in Bonham, Denison and Sherman.
In Sherman, it was the Sherman Fire Department with 123 votes, topping the Sherman Police Department's 113 votes.
The winner of the Battle of the Badge Blood Drive in Denison will be announced next week.
With blood supplies running very low this year, the blood drive donations in Bonham equated to 270 lives saved, according to Brandy Barnard, donor recruiter at Texoma Regional Blood Center.
"This year, blood center supplies all across the country have been running at all-time lows," explained Ms. Barnard. "Blood drives like Battle of the Badge help get the donors out and remind them of the importance of donating and helping the center stock their shelves."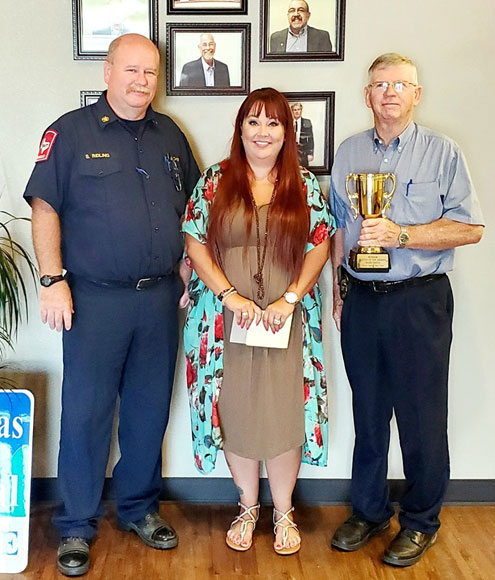 (L-R) Bonham Fire Chief Scott Ridling, Brandy Barnard of Texoma Regional Blood Center and Bonham Police Chief Mike Bankston holding this year's trophy.