Lifestyles
Creative Arts Center launches program for one-man exhibits: Carrol Reese and Karen Sigler featured for September
Sep 3, 2019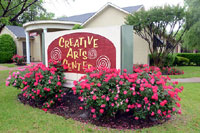 Bonham, Texas -- The Creative Arts Center announced today that it's first East Gallery Exhibition will open on September 3 with an exhibit by Carrol Reese of Ivanhoe. This program is designed to allow member artists to have their own exhibition.

"I came up with the East Gallery program because artists have asked me 'what does it take to have a one-man show here?'," said CAC Executive Director Lisa Avila. "The arts center periodically uses the entire gallery to show the work of a single artist. This is infrequent and is done on an invitational basis, so I wanted to offer all of our member artists a way to have a 'one man show' - which is what every artist desires. The East Gallery is now available to artist members of the Creative Arts Center who may rent the space for a month and fill it with their own work. No more than two artists may share the space at one time."

The idea was an instant success and all four months remaining in the year are reserved. September will include the work of Carrol Reese of Ivanhoe and Karen Sigler of Bonham.

Carrol grew up in Lubbock and began her creative career with leather tooling. After a hiatus during her working career, her creativity surfaced again and she opened a crafting shop and began making mosaics and painting. After closing her shop last year, she now works in her studio at home producing a variety of art.

Karen is also from Ivanhoe and recently became an Artist member of the Creative Arts Center. She is an avid photographer and also paints.

The exhibition of these two artists runs from Tuesday, September 3 through Tuesday, October 1. The public is invited to view this exhibition and the Annual Art Show & Contest entries.

The contest judging is Friday, September 6 and exhibit runs from that day through October 11.

For more information about the Creative Arts Center and its programs, call the center at 903-640-2196 or visit their website at www.creativeartscenterbonham.com.