Local News
Monet: The Late Years open until midnight on the final Saturday
Sep 14, 2019
Monet til Midnight
Saturday, September 14, 2019
10 a.m.--midnight
Fort Worth, Texas -- The Kimbell Art Museum announces its first-ever late-night extended hours event, Monet til Midnight, on September 14, 2019. Monet: The Late Years is one of the highest-attended exhibitions in the museum's history. In celebration of this historic show and to accommodate demand, the Kimbell's Piano Pavilion will remain open until midnight on the final Saturday. Evening visitors will enjoy classical guitar performances in the Pavilion Lobby and refreshments available for purchase in the Pavilion Café.

"The response to Monet: The Late Years has been extraordinary," commented Eric M. Lee, director of the Kimbell Art Museum. "We've found that attendance typically spikes during the last two weeks of an exhibition, and staying open until midnight will help everyone have the opportunity to experience the glorious works in this epic display."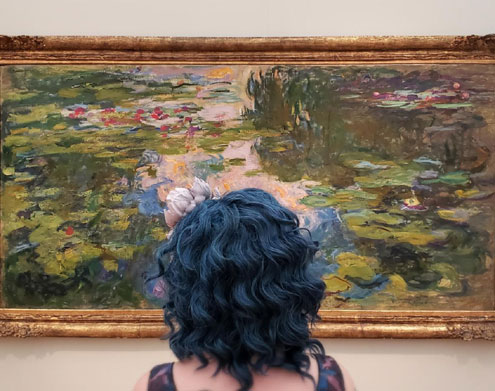 Tickets are available on the museum's website and onsite at the Museum Box Office in the Piano Pavilion.

Parking is available in the underground garage, Kahn Building and East Parking lots, and UNT Health Science Center parking garage and surface lots. Ridesharing is encouraged. The Louis I. Kahn Building will be open for pass-through after 5 p.m. for visitors parking in the campus east lots. Learn more at kimbellart.org.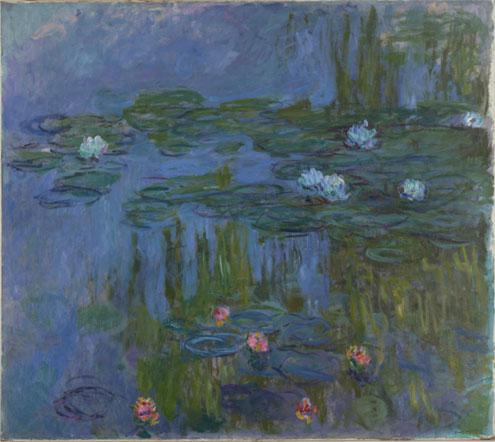 Image courtesy of the Kimbell Art Museum, photo by Alex Conger; Claude Monet, Water Lilies, c. 1914--15. Portland Art Museum, Oregon
Monet: The Late Years is the first exhibition in more than 20 years dedicated to the final phase of Monet's career. Through more than 50 paintings, the exhibition traces the evolution of Monet's practice from 1913, when he embarked on a reinvention of his painting style that led to increasingly bold and abstract works, up to his death in 1926. Assembled from major public and private collections in Europe, the United States and Asia, Monet: The Late Years includes more than 20 examples of Monet's beloved water-lily paintings. In addition, the exhibition showcases many other extraordinary and unfamiliar works from the artist's final years, several of which are being seen for the first time in the United States. A surprising range of paintings----from traditional pictures to canvases more than six feet high to a monumental work measuring 14 feet wide----demonstrate Monet's continued vitality and variety as a painter. This exhibition redefines Monet----widely known as the greatest landscape painter of the Impressionists----as one of the most original artists of the modern age.
This exhibition is organized by the Kimbell Art Museum and the Fine Arts Museums of San Francisco, with the exceptional collaboration of the Musée Marmottan Monet, Paris. The exhibition is supported by an indemnity from the Federal Council on the Arts and the Humanities and a grant from the Leo Potishman Foundation, JP Morgan Chase, Trustee. Promotional support is provided by American Airlines and NBC5.