Lifestyles
Southern Cross Band at Powder Creek Pavilion Aug. 31
Aug 31, 2019
Bonham, Texas -- Come dance to all your favorite country tunes Saturday, August 31 when the Southern Cross Band takes the stage at Powder Creek Pavilion at 8:00 p.m.
"This group is, by far, one of the favorite classic country dance bands known throughout this area," remarks promoter Rick Massey. "Come on out and dance the night away!"
For more information, please call 903-227-1911.
Music is scheduled to begin at 8:00 p.m.
Admission is $10.
Bring your coolers!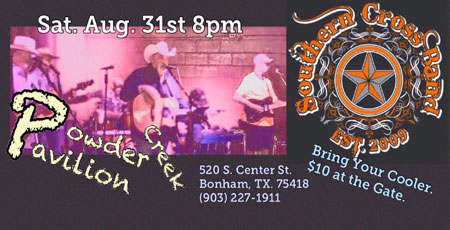 Powder Creek Pavilion is located at 520 S. Center St., Bonham, Texas 75418. For more information, please visit www.powdercreekpavilion.com