Lifestyles
Bruce Wood Dance announces key dates for season 10: 2019–2020
Nov 15, 2019
Dallas, Texas––Bruce Wood Dance celebrates 10 years with performances from Dallas to New York City:
2019
Friday, Nov. 15 and Saturday, Nov. 16. Harvest at Moody Performance Hall at 8:00 PM. Arrive early for the Artist Talk at 7:15 PM in the lobby with guest choreographer Bryan Arias and artistic director Joy Bollinger. Falling the weekend after Veteran's Day, the mixed bill features the return of the nationally acclaimed Follow Me by late founder Bruce Wood®.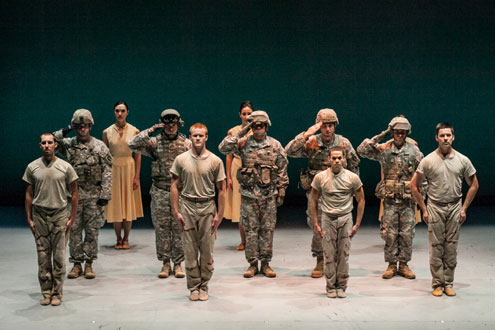 Commissioned in 2004 by RiverCenter Performing Arts in Columbus, Georgia, Follow Me pays tribute to the U.S. Infantry and the soldiers at Fort Benning, Georgia. It is her third major work for the company. Returning to create his second world premiere for Bruce Wood Dance is Bryan Arias. Arias has been commissioned by Ballet Basel, Ballet Vorpommern, The Paul Taylor Company, and Aspen Santa Fe Ballet, among many others. He is the 2017 Princess Grace Choreography Honoree and the 2018–2019 Jacob's Pillow Choreography Fellow. Tickets available soon at TicketDFW.com or call 214–871–5000.
2020
Wednesday, Jan. 8 at 7:30 PM and Sunday, Jan. 12 at 2:00 PM. The Joyce Theater's American Dance Platform in New York City. Paired with the Limón Dance Company, Bruce Wood Dance performs Wood's iconic all-male work, I'm My Brother's Keeper, and Katarzyna Skarpetowska's crowd–pleasing Yesod. Buy tickets at joyce.org/performances/american–dance–platform or call 212–242–0800.
Friday, Feb. 21 and Saturday, Feb. 22. Gala at the Bruce Wood Dance Gallery from 6:30 PM to 10:30 PM. This exclusive evening of song and dance features renowned New York arranger/conductor Joseph Thalken, local professional musicians and vocalist, BWD dancers, and a delicious buffet of food and drink. The fête celebrates Wood's love of Texas and offers excerpts from his western works––Cowboy Songs, Lovett!, and Dust, Texas. Sponsorship opportunities and ticket sales to be announced.
Saturday, April 25. Bruce Wood Returns to Fort Worth at the Scott Theater. Bruce Wood's first company was based in Fort Worth from 1996 to 2007. A return to his roots for a one–evening event at Fort Worth's Scott Theater is a fitting way to the celebrate his second company's 10–year anniversary. More information and ticket sales to be announced.
Friday, June 12 and Saturday, June 13. This show at Moody Performance Hall at 8:00 p.m. offers an evening of lineage and legacy featuring the Dallas premiere of Elemental Brubeck by Lar Lubovitch, I'm My Brother's Keeper by Wood, and a second Wood piece to be determined. Wood was a member of Lar Lubovitch Dance Company for five years.
Lubovitch, one of America's foremost choreographers, founded his company in New York in 1968. A highly prolific artist, he has choreographed more than 110 dances for his company and other distinguished ballet and modern dance companies worldwide. He is the recipient of the Scripps/American Dance Festival Award for lifetime achievement, America's Irreplaceable Dance Treasures Honor by the Dance Heritage Coalition, Dance/USA Honors Award, and American Dance Guild for lifetime achievement. The New Yorker has described his work as "giving pleasure through beauty," and "a thrilling sight . . . ravishing the eye . . . telling stories both complicated and mysterious." Tickets available soon at TicketDFW.com or call 214–871–5000.
Bruce Wood Dance is made possible by its dedicated patrons and sponsors: Heritage Auctions (HA.com); TACA; City of Dallas Office of Cultural Affairs; Texas Commission on the Arts; National Endowment for the Arts; Donna Wilhelm Family Foundation; Janine+Charles Pulman; Roger Fullington; Lancaster+Associates; VisitDallas.com; Ellen Kendrick Creative, Inc.; and the 2019 Commissioners Circle.