School News
Award recipients announced for Southeastern Homecoming Oct. 24-26
Oct 19, 2019
Durant, Okla. – Southeastern Oklahoma State University will celebrate homecoming on October 24-25-26.
Traditional events include the parade, alumni golf tournament, the Alumni Association banquet honoring the Distinguished Alumni and Former Faculty award recipients, pre-game tailgating, and football game.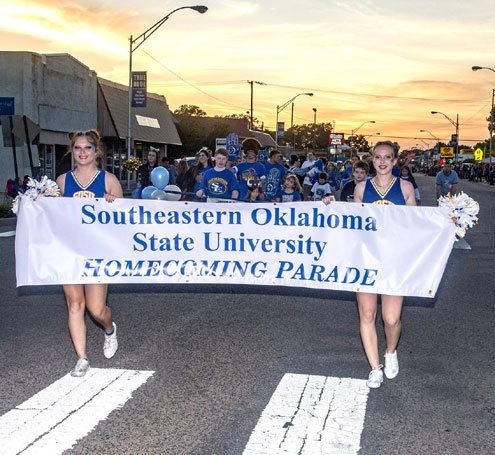 The parade in downtown Durant kicks off Homecoming on Oct. 24.
Kickoff is scheduled for 2 p.m. on Saturday, October 26, at Paul Laird Field as the Southeastern Savage Storm host Henderson State.
This year's award recipients are as follows:
Distinguished Alumni
James Parrish, Choctaw Nation of Oklahoma Executive Director of Education/School Programs and Senior Director of the School of the Choctaw Language
Col. Tuan That Ton, U.S. Army Senior Defense Official and Defense Attache' to Vietnam
Rick Wells, Principal and Founder of Wells Hospitality Group, LLC, One Heart Ventures, LLC, and The Seed Project Foundation
Dr. J. Herbert Taylor (Posthumously), molecular biologist and geneticist
Distinguished Former Faculty
-- Dr. Mary Ann Craige, music professor
-- Vicki Hudson, health, physical education and recreation professor
For a complete schedule of events, visit https://www.se.edu/alumni/