Lifestyles
Bonham resident set to achieve athletic milestone
Sep 3, 2019
Bonham, Texas -- Do you know how you eat an elephant? One bite at a time. That could very well be the strategy for Bonham resident Barry Frambes as he closes in on his goal of walking two million stairs...one step at a time.
"I walk the stairs because it is healthy," Mr. Frambes explains, adding that he started because it was a way he could exercise. And since the stairs lead up to the attic at Northside Church of Christ in Bonham, you could say he's found a spiritual exercise, as well as a physical one.
Mr. Frambes is on track to achieve a milestone of climbing 75 flights of stairs on his 75th birthday which is Tuesday, September 3, for a total of 2 million stairs climbed since he started this exercise routine some ten years ago.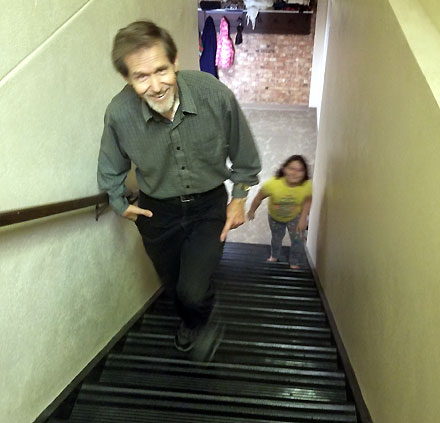 There are 20 stairs in the little flight up to the attic space at the church, which equates to a total of 1500 stairs daily.
There is even a log at the top of the stairs where he keeps track, and logs for anyone he has managed to persuade into joining him, too. A few have joined the fun, providing honorary certificates with his first 500,000 steps in 2012, and again when he hit the one million mark in 2013.
Mr. Frambes slowly built his way up to 50 flights, then 75 flights when he realized he could reach his 2 million goal on his birthday in September instead of mid-November if he upped his daily number of flights a bit.
"This is totally in character for him to have figured out how to make the math work so perfectly to hit this milestone on his birthday -- and to maintain the discipline to actually complete this goal," says his daughter, Lisa Frambes Waltman. "It's also is a pretty neat achievement since he had a hip replacement a few years back and we lost my mom, his wife of 51 years, this January."
Mr. Frambes is looking forward to having his grandkids join him on a few flights on Tuesday also.
"When I last talked with him, he confirmed he was on track for his goal," his daughter remarked, "and he told me he intends to get each of them to do at least 5 flights so they'd know how much effort it is to do 75."