Local News
Lamar County Genealogical Society to meet Sept. 10
Sep 10, 2019
Paris, Texas -- The Lamar County Genealogical Society September meeting will be at 7:00 p.m. on Tuesday, September 10. Our speaker will be Debra Cornett Usry, District D, Texas State Genealogical Society representative. She will speak on: "What does your Texas State Genealogical Society have to offer Partner Societies and Individual Genealogists?"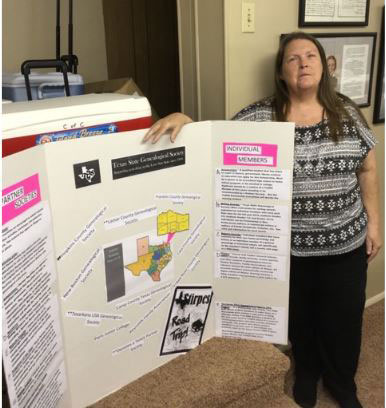 Debra was born in Paris and adopted by Leighton and Ruth Moore Cornett. She started researching her birth families in 1979 when research was done by walking cemeteries, browsing research books in genealogical libraries, looking through newspaper archives and courthouse record books. She found her families and later also researched her husband's family, The information enabled him to become a Choctaw Tribal Member.
She also serves on the board of the Lamar County Genealogical Society Library as Librarian, as well as a genealogist "for hire". She taught a beginning genealogy course through Paris Junior College's Adult Continuing Education several years ago.
You do not have to be a member to attend meetings of the Society, so please come and bring a friend. The Lamar County Genealogical Society and Library is located at the south entrance to the historic Santa Fe Depot, 1135 Bonham Street, Paris, Texas.