Religion
Bonham First United Methodist Church celebrates 175 Years, Part 2
Oct 14, 2019
Not to be stymied by the loss of their church building, the congregation of the Methodist Church rebuilt by 1900. A tall spire dominated the building and a new pipe organ, purchased for $2000 by the church ladies with the proceeds of many a church ice cream social, took pride of place. An annual conference was held here in 1904.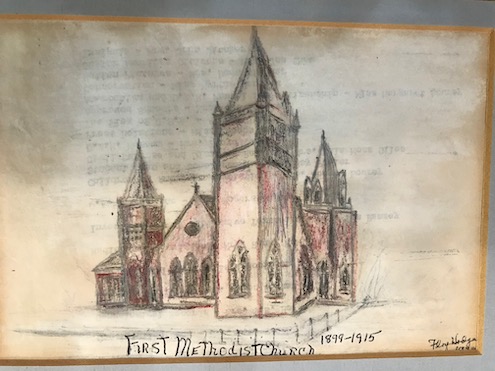 Third building
Alas, spires did not seem to be in the keeping for the church building and in 1915 a strong storm took it down and so damaged the roof that all spires were removed, leaving a rounded appearance.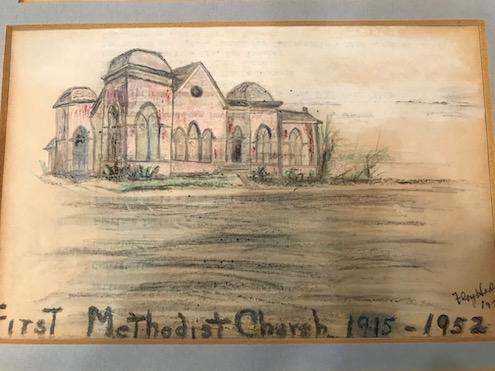 After the storm took the spires
But it's not what a building looks like, but what takes place inside that counts. An annex and kitchen were added to the property and so enhanced the mission of the church as the women of the church took active roles.
In the 1880s, not only had a Ladies Aid organized, but also a Home Mission Society. The latter's purposed was to help the pastor in the up-keep of the parsonage and the church. In 1912, the ladies provided lights for the church.
Sunday School classes were also organized, for men, couples, "younger couples." They still exist today.
But Bonham was not immune to the rest of the world. The flu of 1918 brought a two-week moratorium on all public meetings. World War II saw retired ministers called back to serve local congregations.
By the 1950s, the church was outgrowing the current facility. An education building was added in 1953 and it was time for a new sanctuary. The organ was sent back to Germany for rebuilding while construction was ongoing. The cornerstone was re-laid in 1961 and another new era begun.

Please come help us celebrate all aspects of church life on Sunday, October 27, as we acknowledge 175 years of faithful service to God.

WHEN: Sunday, October 27, 2019 at 10:30 AM
WHERE: 801 Star Street, Bonham, TX
WHAT: Celebrating 175 years of faith and service
HOW: 10:30 Worship in the sanctuary followed by a group photo
Please join us for lunch at the Family Life Center after the photo
MORE INFORMATION: Please call the church office, 903-583-3314

SOURCE: A History of the First United Methodist Church, 1844-1984, Bonham, Texas by Mary Lou Kissinger and Juanita Chase Spencer

SKETCHES: Floy Hodge, 1973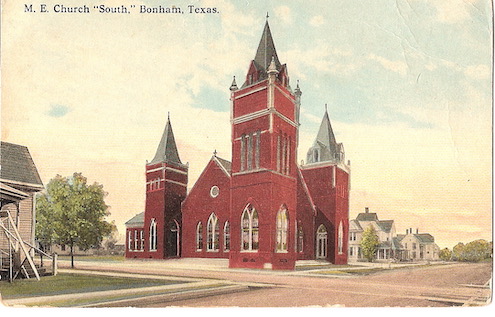 Third building from an early postcard