Local News
Reception for Art Contest September 6
Sep 6, 2019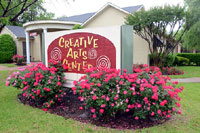 Bonham, Texas -- The Creative Arts Center invites everyone to a reception for the Annual Art Show & Contest on Friday, September 6 at 5:00 p.m. This reception celebrates the winners of the competition and the exhibition of the art submitted. Usually this annual event brings in the best work of each artist. Ribbons and prize money reward the winners.

"Competition is great because each artist takes a risk, pulls out all the stops and produces great work," says arts center Executive Director Lisa Avila. "I love this exhibit because we get so many entries and terrific art for display."

The community is invited to the reveal and reception and refreshments will be served. The artists will be on hand to meet and talk about their art and most of the art will be for sale, giving guests a great opportunity to purchase "that perfect piece of art" for their home or office. The exhibit runs through October 11.

For more information about the Creative Arts Center at 200 W. 5th St. In Bonham, see them on Facebook or the website at www.creativeartscenterbonham.com.