Local News
Davy Crockett Festival in Honey Grove Sept. 28
Sep 28, 2019
Saturday, September 28
Honey Grove, Texas -- Pull out your coon skin caps and make plans to head over to Honey Grove on Saturday, September 28, 2019, for the annual Davy Crockett Festival! Festivities will kick off at 7:00 a.m. with a pancake breakfast sponsored by Masonic Lodge #164.
Vendors of all sorts will be set up around the downtown square selling their wares from 9:00 a.m. until 3:00 p.m. We will see the return of the always favorite Bicycle Rodeo, sponsored by the Honey Grove Police Department; the Mutt Strut, sponsored by K9 Corral and the Honey Grove Veterinary Clinic will be returning again this year; as well as a lot of other oldies but goodies.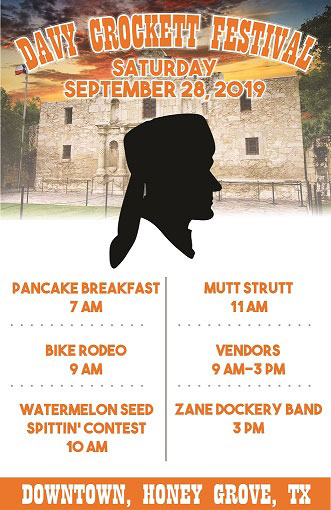 We will also be throwing in some new items this year, so we hope to see you on Saturday, September 28th in the "sweetest town in Texas"!