Lifestyles
2019 Ray Reunion
Sep 7, 2019
Ray-Union Time: August 10, 2019, came together at 7th & Main Baptist fellowship hall in Bonham. 66 peaceful relatives met to eat & visit.
Jamie & Dustin Hess came with children, Dylan, Damien, Baylan, Purity ,Ps, & Jazmine drove from Ronan, MT. They were recognized as coming the longest distance.
Other family members in attendance were: Scarlett Coker-Ever & Sawyer, Raynell & Jim Glaser, Deborah Green -Zach, Sherry Sue Hall, Anna & Jarod Hicks -Presley, Westin, & Hunter, Rhonda & Gary Hicks, Kim & Rick Howard - Carson & Emory, Rhonda & Larry Kueck, Diann & John Lodwick, Jristina & Cody Nelson - Landon & Jayden, Beth Scott & Joe Ray, Carrie & Dan Ray - Lydia, Judy & Rex Ray, Marie & Andy Ray -Shiloh, Ann & Rollie Rinker , Jennifer & John Mark Rinker- Tori & Emily, Kim & Gary Rinker- Lisa, David & Kevin.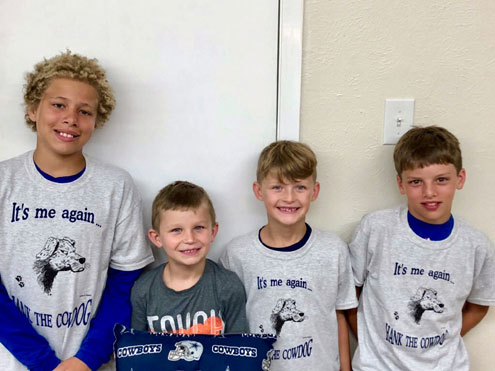 (L-R) Damian Hess, Hunter & Westin Hicks, Babylon Hess – Winners of Corn Hole Toss
Two couples announced their engagements; Kelsey Oakes to Issac Ray & Mariah Madrid to DAvid Rinker, to be married 9/21/19 in Bentonville, AR.
Although speculations ran high, the family is pleased to report: NOT ONE FIGHT BROKE OUT & consensus is to meet again summer of 2020.
Scrambled out by Raynell Ray Glaser