Sports
Kemboi & Lion men take East Texas Shootout title, Lion women place second
Sep 7, 2019
Commerce, Texas -- The Texas A&M University-Commerce cross country teams opened the 2019 season by hosting the East Texas Shootout at Centennial Park on Saturday morning, with the men's team taking the championship and the women's team placing second.

MEN'S RACE (8k) – FULL RESULTS
The men's team had four top 10 finishes to score 36 points, edging out regionally-ranked Dallas Baptist by two points for the team title

Timon Kemboi (Eldoret, Kenya) claimed the individual championship in his first collegiate cross country race, finishing the eight-kilometer course in 25:54.59 – over 37 seconds quicker than the next collegiate competitor.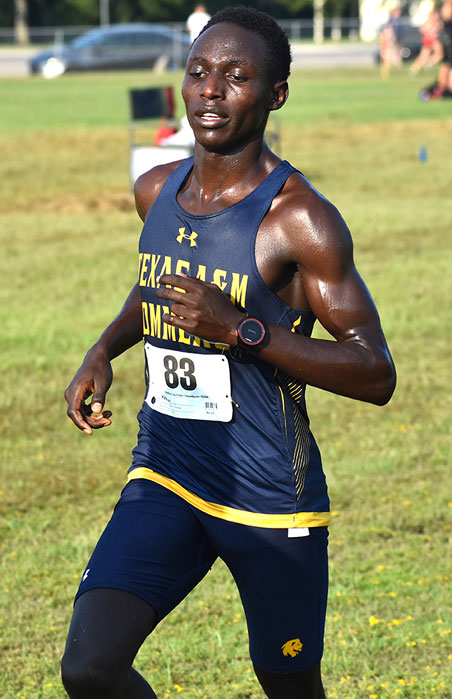 Timon Kemboi



Cooper Miller (Big Spring) placed fifth in his first collegiate race at 26:42.45, followed by Alabama transfer Octopias Ndiwa (Eldoret, Kenya) in sixth place at 26:44.34.

Garvin Chilton (Katy) placed eighth at 26:47.23 and AJ Tillman (Sachse) placed 24th and scored in 19th to close out the Lions' first team championship since 2016

WOMEN'S RACE (5k) – FULL RESULTS
The Lion seniors stood out as A&M-Commerce scored 57 points to finish behind a powerful Dallas Baptist team.

Brandi Stalder (Sanger) placed sixth in the race at 19:10.74 as one of only seven racers to finish in under 20 minutes.

Maddie Shubert (Rowlett) finished in 11th place at 20:16.12 and Mallory Morgan (Katy) placed 14th at 20:44.23. Freshman Cassidy Seaney (Miller Grove) placed 20th in her collegiate debut at 21:53.33, while fellow freshman Evelyn Brown (Paris) placed 33rd at 23:47.57, and Shelby White (Eustace) placed 35th at 24:06.83

The Lions have two weeks before their next race, when they compete in the Missouri Southern Stampede in Joplin, Mo., on Saturday, September 21.

CLICK HERE for head coach George Pincock's post-race comments.