School News
Tessier shares summer internship highlights
Sep 10, 2019
Sherman, Texas -- Austin College junior Vero Tessier will be the featured speaker at the College's Environmental Studies Lunch Talk at noon on Tuesday, September 10, in Wright Campus Center, Room 231. She will discuss her summer 2019 internship at Little Traverse Conservancy in Harbor Springs, Michigan. The session is free and open to the public. Attendees may bring their lunch to the session.
Of Allen, Texas, Tessier is completing a major in environmental studies and minors in psychology and biology.
Each year, the Austin College Center for Environmental Studies offers competitive summer internships with small but nationally known environmental organizations that are recognized leaders in their field, including Little Traverse Conservancy.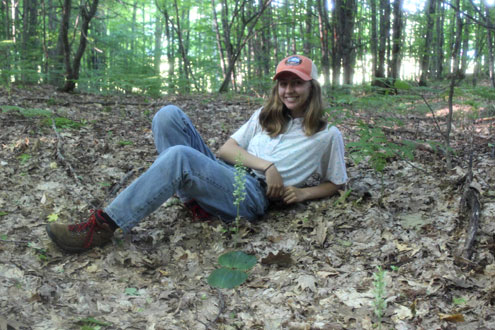 Austin College junior Vero Tessier
Little Traverse Conservancy protects natural habitats and provides environmental education opportunities to the people of Northern Michigan. The conservancy owns nature preserves and working forest reserves, and holds conservation easements on many other properties. Nature preserves are open to the public for non-motorized recreation. Working forest reserves are actively managed through sustainable timber harvests. Conservation easements, legal mechanisms for restricting the development of private property, enable property owners to protect their land from future development. Conservancy staff members monitor existing easements, maintain and manage the Conservancy's preserves, and provide environmental education programs.
Interns spend much of their time with preserve stewardship and education. Stewardship includes trail maintenance, mowing, boardwalk construction, ecological restoration, vegetation management, and resource assessment.
Austin College, a private national liberal arts college located north of Dallas in Sherman, Texas, has earned a reputation for excellence in academic preparation, international study, pre-professional foundations, leadership development, committed faculty, and hands-on, adventurous learning opportunities. One of 40 schools profiled in Loren Pope's influential book Colleges That Change Lives, Austin College boasts a welcoming community that embraces diversity and individuality, with more than 50 percent of students identifying as persons of color. The residential student body of approximately 1,300 students and more than 100 expert faculty members allow a 13:1 student-faculty ratio and personalized attention. This year, the campus continues its celebration of 100 years of co-education and opportunities to recognize the history of women and accomplishments of current alumnae. Austin College is related by covenant to the Presbyterian Church (USA) and cultivates an inclusive atmosphere that supports students' faith journeys regardless of religious tradition. Founded in 1849, the College is the oldest institution of higher education in Texas operating under original name and charter.